In today's news, The National Endowment for Music aims to support pupils' musical ability by donating £1 million to the Arts Council of Wales to aid after-school music services that were affected by cuts. Frank Ocean tackles the topic of artist ownership at the Grammy's, and the Welsh National Opera is to establish a fully integrated international opera school at the Royal Welsh College of Music and Drama. Valentin Uryupin wins Sir Georg Solti Conducting Competition, and Anne Midgette takes a look at the relevance of opera in correlation with the modern human psyche.
BBC
£1m endowment fund for children to take up music
A new £1m fund to encourage children to become musicians has been announced by the Welsh Government.
The Washington Post
How to survive the next four years on social media? Opera can help.
We are living in operatic times. Forget what you've heard about opera being remote and elitist. Opera is also the art form that, perhaps more than any other, specializes in heightened emotion, and in finding ways to communicate it. And heightened emotion, and big feelings, are the order of the day, everywhere you look.
The Guardian
Facing the music: conductor Daniele Rustioni
From a teenage obsession with Wagner to the inspirational Giulini and the daily necessity of Bach, the conductor shares his musical passions
Music Business Worldwide
FRANK OCEAN LETS RIP AT THE GRAMMYS. AND REALLY, WHO CAN BLAME HIM?
In the coming days, we'll ponder what this means for the future of artist empowerment and the ultimate fate of major record companies.
Rhinegold
RWCMD and WNO to launch opera school
Welsh National Opera (WNO) is to establish a fully integrated international opera school at the Royal Welsh College of Music and Drama (RWCMD), enabling emerging artists to receive teaching from the College's staff, members of WNO and leading figures from the wider opera world.
The New York Times
Adele Dominates the Grammys; Beyoncé Stops the Show
Adele swept the 59th annual Grammy Awards with her album "25," an enormous hit around the world, in a night that shut out Beyoncé from the major awards and also featured reverent tributes and, at times, pointed political commentary.
Die Zeit
Er hatte die wohl kühnste, unglaublichste Stimme des Jazz: Al Jarreau zeigte den Deutschen das Scatten und sie liebten ihn dafür. Ein Nachruf.
Klassik
Valentin Uryupin gewinnt Sir Georg Solti Dirigentenwettbewerb
Der russische Dirigent Valentin Uryupin hat den ersten Preis beim 8. Dirigentenwettbewerb Sir Georg Solti in Frankfurt am Main gewonnen. Die Auszeichnung für den 31-Jährigen ist mit 15.000 dotiert.
Musik heute
Grammy für deutsche Sopranistin Dorothea Röschmann
Die 49-Jährige erhielt den Musikpreis am Montag in Los Angeles für ihr Liederalbum "Schumann & Berg", aufgenommen mit der britisch-japanischen Pianistin Mitsuko Uchida.
NRK
Universal kjøper rettigheter til Prince
Plateselskapet Universal har kjøpt rettighetene til flere av Prince sine album. I avtalen skal selskapet også få tilgang til materiale som ikke har vært utgitt.
Twitter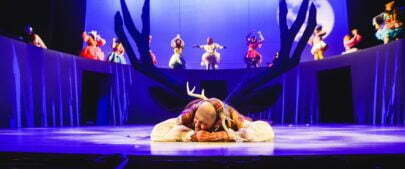 Image: RWCMD