I Fagiolini
Vocal ensemble
Internationally renowned for its innovative musical productions, British solo-voice ensemble I Fagiolini is comprised of Robert Hollingworth (musical director and baritone), Charles Gibbs (bass), Clare Wilkinson (mezzo-soprano), Nicholas Hurndall Smith (tenor), Anna Crookes (soprano), Rebecca Lea (soprano) and Greg Skidmore (baritone).
On the 26 December 2020, I Fagiolini released their new short film 'The Stag Hunt' – a production written and directed by film director John La Bouchardiere. The film is a modern satire about aristocracy, extinction and the environment, based on La Chasse by Renaissance composer Clément Janequin. For the film's release, I Fagiolini partnered with Born Free and will donate a third of all proceeds to the wildlife charity.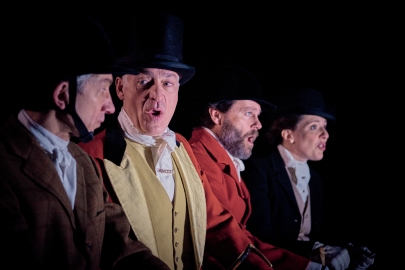 Produced by Polyphonic Films and shot a week before the first pandemic lockdown, the film was released on Boxing Day to coincide with the traditional Boxing Day hunt, which was widely cancelled last year due to COVID-19.
La Chasse (1537) portrays a royal hunting party stalking and chasing a stag for the king to kill. Pairs of hunters with dogs compete to find the stag's traces: not everything goes to plan. Once the beast is tracked, the chase begins with a tumult of sound effects: horses hooves, baying hounds and honking horns, plus cries of 'tally-ho', are given full display in a seven-part acappella counterpoint to bewildering effect.
Prior to and following the release of the film, WildKat has been working on Marketing and Press and PR for I Fagiolini.
Services:
Press and PR
Marketing