PROFEDIM is a French Professional Union of Independent Music Producers, Festivals, Ensembles and Broadcasters.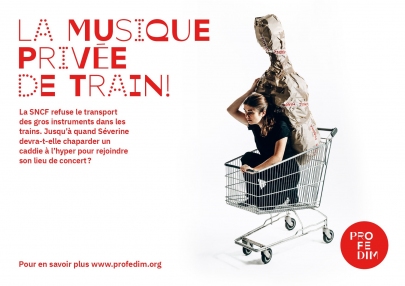 The structures represented by PROFEDIM are major actors of the musical life in France: lyric companies, musical creation centres, specialised musical ensembles, festivals, production offices, musical research centres, cultural meeting centres, independent music producers or broadcasters. The musical project is at the heart of their action and they share the same attachment to the values of musical innovation and artistic independence. They serve a general interest purpose alongside other State operators, including symphony orchestras and opera houses, thus promoting the diversity of the musical offer. These independent musical structures play a major role in the French cultural landscape and were all created on the initiative of strong artistic personalities. They are essential players in the fields of creation, production, dissemination, research, training and the rediscovery and promotion of musical heritage.
PROFEDIM wishes to contribute to the recognition of the major role played in the French cultural landscape by independent musical structures born from the initiative of a strong artistic personality, their excellence and their dynamism. These structures are essential actors in the fields of musical creation, innovation, production, dissemination, research, training and the rediscovery and promotion of musical heritage. They have chosen a sustainable economic model that places the artistic project at its centre, bringing together the most qualified artistic or technical teams for creation, production, research or dissemination activities, giving the project its full artistic strength.
The members of PROFEDIM are committed to the charter of public service missions. They place at the centre of their concerns access for all to works of art as well as to cultural practices; they nourish the collective debate and social life by claiming a strong presence of artistic creation, and by recognising the artists' total freedom in their work of creation and distribution.
WildKat Paris is proud to organise workshops for PROFEDIM to help its members better understand the importance of their image on online platforms.