Classical News
Guardian
Paris classical music row intensifies as new concert hall prepares to open
Salle Pleyel's ex-owner and fans vow to get decision to make €390m Philharmonie capital's principal orchestral hall reversed
Independent
Lyre, lyre: Bringing 'Orfeo' to the London stage
The world's first great opera is to be the first staged at London's Roundhouse
Telegraph
96 things you shouldn't miss in 2015
Daring risks, surprising twists and welcome returns – our critics select the cultural highlights of 2015
Classic FM
Playing a musical instrument could help children who suffer from anxiety
The largest study of its kind has shown a link between musical training and brain development.
Frankfurter Allgemeine
Aus den Trümmern zur Premiere: Günther Rühle hat seine Geschichte des Theaters in Deutschland mit einem exzellenten zweiten Band über die Jahre 1945 bis 1966 fortgesetzt.
Klavier.de
Zwickauer Schumann-Preis 2015 geht nach Düsseldorf
Die Düsseldorfer Robert-Schumann-Forschungsstelle wird mit dem Robert-Schumann-Preis 2015 der Stadt Zwickau ausgezeichnet.
The New York Times
Song and Daughter Inspire Plans to Celebrate People With Disabilities
In July, a month after the Gay Pride March is scheduled to unfold, a different kind of pride procession is set to commence: the Disability Pride NYC parade.
pizzicato
Minkowski Cancels Grenoble Concerts
After having lost a public funding of 438.000 Euros, Marc Minkowski's 'Musiciens du Louvre' have canceled a series of concerts, first consequence of the brutal decision by the mayor of Grenoble to stop funding the orchestra.
Danish National Chamber Orchestra Starts Crowdfunding
Officially, the Danish National Chamber Orchestra does no longer exist.
Twitter
Wigmore Hall @wigmore_hall: We kick off the @BBCRadio3 Monday Lunchtime broadcasts for 2015 with a recital by cellist Alisa Weilerstein at 1pm: http://bit.ly/1DoeagR 
BBC Radio 3 @BBCRadio3: Grasp the Gesamtkunstwerk. Thirty features about Wagner, from 3 mins to one hour, online now: http://bbc.in/149kVH2 
Royal College Music @RCMLatest: Hear about our recent re-enactment of the @BerlinPhil's 1913 wax recording of Beethoven 5, reported on @BBCRadio3: http://bbc.in/1vWkgjn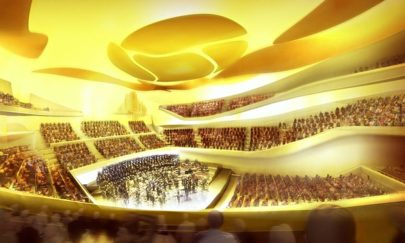 A computer-generated image of inside the Philharmonie de Paris, which is part of the state-run Cité de la Musique complex. Photo: Guardian