Classical News
Guardian
Facing the music: Bob Chilcott
He wants to put 400 singers in a railway station, and he loves a bit of Barbra Streisand … composer and conductor Bob Chilcott shares his musical passions
The Times
Is Riccardo Chailly the man to save La Scala and all Italian opera?
Riccardo Chailly likes an uphill struggle.
BBC Music Magazine
Joseph Calleja, Alex Beard and Sir Nicholas Kenyon team up for artist residency
London's Corinthia Hotel invites major players in classical music to judge opera-themed artist in residence programme
Sinfini
High culture will meet cutting edge contemporary art this summer with the introduction of a pop-up gallery at one of the UK's most traditional opera festivals.
Classic FM
Can singing in a choir make children more moral?
A new study has found that children who sing in a choir, play in an orchestra or take part in drama activities are more likely to make good moral choices than their peers.
Zeit Online
Immer nur Mozart, Mahler, Brahms
Wir brauchen keine Debatte über Konzertsäle, sondern zuerst über Konzertprogramme. Orchester spielen immer dasselbe, lähmende Spielpläne enthalten uns viele Genies vor.
Der Tagesspiegel
Daniel Barenboim – mit der Moderne auf Du und Du
Alban Berg, Pierre Boulez – und die endlosen Bauarbeiten Unter den Linden: Chefdirigent Daniel Barenboim über Komponisten als Revolutionäre und die Staatsopern-Festtage.
concerti
Mit Spitzen-Ensembles aus ganz Europa sollen nicht nur Kenner sondern auch Kinder angesprochen werden
audiophil
"Wir sind begeistert darüber, nicht nur die bisher größte Anzahl deutscher Künstler vor Ort zu haben, sondern mit ihnen eine Auswahl, die stärker denn je den wahren Geist Deutschlands und seiner künstlerischen Begabungen hervorhebt", sagt James Minor, General Manager des SXSW Music Festivals.
pizzicato
Russian Radio Orpheus Engages In The Revival Of Musical Heritage
At a press conference in Moscow, Irina Gerasimova, General Manager and Artistic Director of the Russian State TV and Radio Music Centre, Orpheus, presented the multimedia project Revival Of The Musical Heritage Of Russia operated in collaboration with the company E.ON Russia.
Le Figaro
Ces acteurs qui connaissent la musique
La semaine dernière, elle était du voyage présidentiel aux Philippines pour lancer l'appel de Manille, à quelques mois de la conférence du climat.
Twitter
BBC Radio 3 @BBCRadio3: To mark International Women's Day Sarah Walker is talking to feminist author @EricaJong, every day this week at 10am https://t.co/vQqzFfrMjs
Classical Music @ClassicalMusic_: To boycott or not to boycott? The knotty relationship between politics and the arts http://ow.ly/JJvVL  @ThompsonWarwick
Opera North ‏@Opera_North: Miss @WNOtweet's Twitter takeover asking if austerity will #killculture on Fri? Here's a recap: http://wp.me/p4iWXH-cc 
via @wordpressdotcom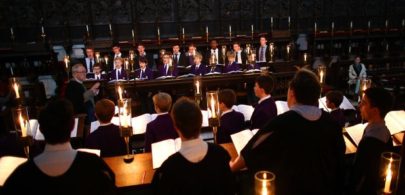 Can singing in a choir make children more moral? Photo: Classic FM