Classical News
The Guardian
Facing the music: Noah Stewart
Nat King Cole, Nina Simone and New York City – tenor Noah Stewart on his musical passions on and off the stage
The pitfalls and perks of playing a concert hall piano
The tone and touch of a piano might be terrific or terrible, so how does a performer prepare? Pianist Boris Giltburg describes the keyboard of his dreams
The Times
10 things to know about Simon Rattle's new concert hall
As debate rages about whether London needs a new £200m venue to keep up with the best in Europe, Richard Morrison conducts his own feasibility study
The Strad
Frank Peter Zimmermann forced to hand back 'Lady Inchiquin' Stradivarius
The violinist, who turns 50 this Friday, is attempting to buy the instrument, which was previously on loan from failed bank WestLB AG
International Arts Manager
Digital marketing for the arts discussed in free session
The secrets of digital success are being shared at The Art of Digital, a free workshop aimed at arts organisations hosted by arts administration specialists Spektrix and digital agency AD.
Süddeutsche.de
Diskussion um neue Tonhalle für London
Berliner Zeitung
Berliner Straßenchor feiert mit "Straßen-Carmina" Premiere
Der Berliner Straßenchor ist ein Chor für Menschen ohne Wohnung, ohne Arbeit, Menschen mit Behinderung, Drogenabhängige oder Prostituierte.
pizzicato
Businessplan für Bonner Beethoven-Festspielhaus vorgestellt
Zwar ist noch nicht gewusst, welcher Architekt das Beethoven-Festspielhaus in Bonn bauen wird, aber der Bau, der komplett privat finanziert werden soll, hat jetzt bereits einen Businessplan, der die Wirtschaftlichkeit des Unternehmens voraussagt.
Classicalite
'Grand Budapest Hotel' and 'Whiplash' Top Contenders at Oscars, Alexandre Desplat Wins Best Original Score
Now with the Oscars at a close, the results proved to be a normal get together of acting talent abound.
nprmusic
Composing The Folk Music Of A Made-Up Country
Composer Alexandre Desplat is competing against himself in this year's Oscars: He's up for two awards in the category of Best Original Score.
Twitter
Intermusica ‏@IntermusicaLtd :@colincurrieperc & Pavel Haas Quartet at @wigmore_hall at the weekend – more photos here http://ow.ly/Jz1OS 
Bachtrack ‏@bachtrack : Strongly cast revival of Die Zauberflöte at @royaloperahouse @JanaiBrugger @tobyspence
Royal College Music ‏@RCMLatest: Congrats to RCM pianist Luka Okrostsvaridze, chosen for the #TillettTrust's Young Artists' Platform with a recital @wigmore_hall in December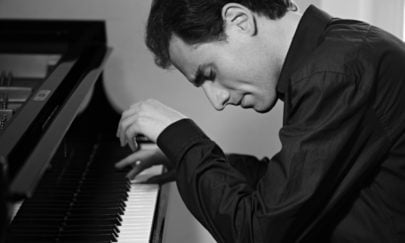 'The finest pianos achieve the best results' … Boris Giltburg. Photograph: Sasha Gusov