In today's news, the National Youth Orchestras of Scotland announces their 2017 season based on the americas, and music teachers worry that tuition fees can't keep up with cost of living. At the last minute of Catherine Manoukian's Washington debut, Lura Johnson steps in to save the day, and The Royal Scottish National Orchestra will depart on its first trip to the United States in more than 35 years. Viryl Technologies releases a new vinyl-pressing, robotic technology, and jazz singer Al Jarreau announces the end of his live performance career.
Rhinegold
Music tuition fees failing to keep up with the cost of living, ISM survey reveals
The Incorporated Society of Musicians' annual survey of teaching and accompanying rates has revealed that music tuition fees are not increasing in line with the cost of living.
National Youth Orchestras of Scotland announce 2017 season
The theme for the National Youth Orchestras of Scotland's 2017 season is The Americas, with each ensemble performing a selection of works directly linked to or inspired by the Americas.
Washington Post
Last-minute accompanist swap didn't mar Catherine Manoukian's D.C. debut
Armenian violinist Catherine Manoukian's Washington debut was imperiled by the sudden indisposition of her accompanist, but Lura Johnson, a well-known Baltimore pianist, saved the day, filling in Wednesday at the National Museum of Women in the Arts. Lacking adequate rehearsal time, the new duo could offer only three standard war horses from the same era: sonatas by Brahms (Nos. 2 and 3) and Franck.
International Arts Manager
Sheku Kanneh-Mason booked for BAFTAs
Cellist Sheku Kanneh-Mason has booked himself the ultimate album launch party, with the release of his new EP timed to coincide with his performance at the British Academy Film Awards (BAFTAs). The BBC Young Musician 2016 winner will be introduced by host Stephen Fry.
The Strad
Danish jazz violinist and composer Svend Asmussen has died, aged 100
Over a career spanning eight decades, Asmussen collaborated with such jazz luminaries as Duke Ellington, Benny Goodman and Stéphane Grappelli, and recorded several albums
Broadway World
Royal Scottish National Orchestra Florida Tour Begins 3/13
This March, the Royal Scottish National Orchestra will embark upon its first trip to the United States in more than 35 years. The RSNO, together with Music Director Peter Oundjian and violinist Nicola Benedetti will perform throughout the state of Florida
Artsjournal
The New Robots That Are Making Vinyl Records
"The first new record-pressing machines built in over 30 years are finally online. The brainchild of some Canadian R&D guys with a background designing fancy MRI machines, the Warm Tone record press is everything that its vintage counterpart is not
Pizzicato
800 Singers To Perform At Sing'n'Joy Princeton 2017
From February 16-20, the Westminster Choir College in Princeton (New Jersey) and choir events organizer Interkultur will host 20 choirs
Bayreuther Festspiele verkaufen wieder Eintrittskarten online
Für die Bayreuther Festspiele (25. Juli bis 28. August) beginnt am 12. Februar (14 Uhr) der Online-Verkauf von Eintrittskarten.
Frankfurter Allgemeine
Jazz-Sänger Al Jarreau beendet Live-Karriere
Im Juli hatte der Jazz-Sänger noch einmal nach Deutschland kommen wollen. Jetzt hat Al Jarreau mit 76 Jahren im Krankenhaus eine schwere Entscheidung getroffen: keine Live-Auftritte mehr.
KlassikAkzente
Ein Piano-Star kehrt heim – Lang Lang zurück bei Universal Music
Der chinesische Pianist Lang Lang begeisterte mit seinem Spiel schon Milliarden Menschen auf der ganzen Welt. Jetzt kehrt der umjubelte Künstler heim zur Universal Music Group.
Concerti
Was haben Currywurst, S-Bahn und die Musiker des Berliner Konzerthauses gemeinsam? Ganz einfach: sie machen Musik!
France musique
Musique contemporaine : vers une écoute moins intellectuelle ?
Pour cette 27e édition du festival de création musicale Présences, 79 compositions et un portrait musical de la compositrice finlandaise Kaija Saariaho sont proposés au public de la Maison de la Radio ainsi qu'aux auditeurs de France Musique.
Twitter
Classical Music News ‏@CIassicalMusic Winners of the 2017 Music Teacher Awards for Excellence announced http://dlvr.it/NL8T4H #ClassicalMusicpic.twitter.com/mVJ4aFlWFM
Music History ‏@today_classical #Today in 1882 FP of #RimskyKorsakov's opera The Snow Maiden #MusicHistory #classicalmusic pic.twitter.com/xaWjtiAXj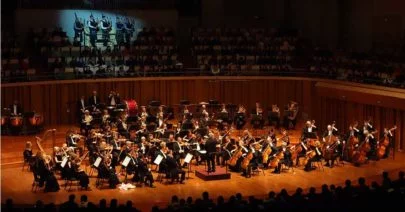 Image: Royal Scottish National Orchestra