Classic FM
Tattooed opera composer third in Czech presidential election
The Czech presidential elections have a surprise third-place candidate in the shape of Vladimir Franz, an opera composer with tattoos covering his body.
BBC News (found on Arts Journal)
Competition launched to develop one-handed instruments
A competition has been launched to develop a musical instrument that can be played, at orchestral level, with one hand.
CBC News (found on Arts Journal)
Quebec tenor stages 'vocal cord strike'
Singer Marc Hervieux protests Opera de Montreal ad campaign
Wales Online (found on Musical Chairs)
Former home of actor and composer Ivor Novello sells for £350,00
The former residence of composer and film actor Ivor Novello has been snapped up for close to its £350,000 asking price – and is to be leased as office space.
Slipped Disc
Minnesota unfreezes for one night only – Grammy time
The Minnesota Orchestra, whose musicians have been locked out for four months by a brutal management, will give a one-off concert on February 1, ahead of the Grammy awards.
Dresden sticks two fingers at Richard Wagner in his birthday week
On 22 May 2013, the great composer's 200th birthday, the Semper opera house in Dresden, where he was music director for seven formative years (1842-49), will be performing…. Verdi.
The Telegraph
Although born in the same year, Wagner and Verdi embody two very different outlooks on life and art.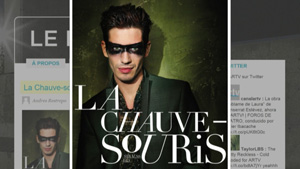 CBC News