In today's news: a guide to newly opened Pierre-Boulez hall, a short profile of baritone Sir Bryn Terfell, and conductor Václav Luks is awarded Mozart Prize, the ICMA trophy revealed in Paris, Cheltenham festival programme for this year announced, New Order at Manchester international Festival, something different: Music tasting of Handel's compositions, IGC winners 2017, Sirena Huang Awarded 1st Prize at NY Concert Artists Debut Auditions
The Guardian 
Opera for babies joins New Order at Manchester international festival
An opera for babies, Jane Horrocks singing about Lancashire's cotton industry and New Order reworking their back catalogue with a 12-member synthesiser ensemble are some of the highlights of this summer's Manchester international festival (MIF).
BBC News
Works to listen to after Handel's Messiah
With 50-plus recordings, and thousands of performances every year, Handel's Messiah is, without doubt, one of the most popular works ever written. But does its popularity overshadow other great music? Here are six similar works to explore…
Rhinegold
Cheltenham Festival 2017 programme announced
Highlights include performances by Bryn Terfel, the Hallé, Chineke! Orchestra, the CBSO with Mirga Gražinytė-Tyla, anniversary Monteverdi from I Fagiolini and Academy of Ancient Music, a new BBC Young Musician series including Sheku Kanneh-Mason, and the first outing of the Philharmonia's Virtual Orchestra outside of London.
Pizzicato
New ICMA Trophy Revealed In Paris
Yesterday, with ICMA President Remy Franck attending, the new trophy of the International Classical Music Awards was revealed in Paris.
The Violin Channel 
Young Artist Sirena Huang Awarded 1st Prize at NY Concert Artists Debut Auditions
22 year old VC Young Artist Sirena Huang has been awarded 1st prize at the 2017 New York Concert Artists Worldwide Debut Auditions
The Strad
International Grumiaux Competition for Young Violinists names 2017 prize winners
The tenth International Arthur Grumiaux Competition for Young Violinists, which took place in Brussels, Belgium from 2 to 5 March, has named its 2017 category prize winners.
Der Tagesspiegel
Wer den neu eröffneten Saal sehen will, kann das noch im März tun. Auch für April gibt es Plätze. Für welche Veranstaltungen genau und worauf man sich bei einem Besuch einstellen sollte, verrät unser Autor
concerti
Der sympathische Bösewicht von der britischen Insel
Für den Bariton Sir Bryn Terfel ist nur eine Sache wichtiger als die Musik: seine Familie
kulturradio rbb
Mozartpreis für böhmischen Entdecker
Der tschechische Cembalist und Dirigent Václav Luks erhält den Mozartpreis 2017 der Sächsischen Mozart-Gesellschaft.
musicalchairs
Meurig Bowen delivers stellar Cheltenham Music Festival To mark his 10TH anniversary as director
Commenting on this year's Festival, Meurig Bowen said: "I am delighted to be celebrating ten years as director of Cheltenham Music Festival. Living here all this time, and culturally connected to the local community, I have come to appreciate Cheltenham's many discrete, receptive and questioning audiences,…
Construction News
From opera singer to site manager
Having left the Guildhall School of Music & Drama in 2012, I began to take my first steps on the road to what promised to be a successful career as an opera singer.
Twitter
Sound and Music@soundandmusic: This weekend in Manchester – #CutAndSplice, curated by @Distractfold @soundandmusic @BBCRadio3 – Exciting!
klassik.com@klassikcom: Szene aus unvollendeter #Liszt–#Oper erklingt in London #Musikwissenschaft http://klassik.com/?CMLFe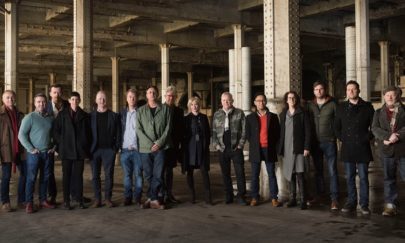 Image: The Guardian