Classical News
In today's classical news, Deutsche Phono-Akademie announced its 2016 ECHO Klassik awards. Pentatone, a Dutch music label, appoints new vice president, Renaud Loranger. Also, Marriott Classical Music Festival returns for its third year.
The Strad
Cellist Sol Gabetta and violinist Pinchas Zukerman win 2016 ECHO Klassik awards
The Deutsche Phono-Akademie (German record industry) has named the 57 winners of its 2016 ECHO Klassik awards, honouring 'the most successful and outstanding achievements' of German and international classical musicians over the last 12 months. Among the string players recognised by the industry are Sol Gabetta, who wins the Instrumentalist Cello title for her Vasks 'Presence' recording on Sony Classical, and Pinchas Zukerman, who takes home the Instrumentalist Violin prize for his recording of Vaughan Williams and Elgar on Decca.
Opera Now Magazine
4.48 Psychosis wins UK Theatre award
Philip Venables' 4.48 Psychosis has won the UK Theatre award for achievement in opera.
Classical Music Magazine
Pentatone appoints new vice president
Renaud Loranger will join Pentatone as vice president for artists and repertoire on 1 November. He will be tasked with developing the label's roster and expanding its activities internationally.
Cape Times
'Marriott Classic Music Festival' returns
The hills of Franschhoek will once again be alive with the sound of music as the Marriott Classic Music Festival returns to the scenic village for the 14th time from October 21 to 23 October with an inspiring programme of classical music from South Africa's foremost musicians, plus acclaimed international artists.
Evening Standard
Orchestras should hold blind auditions to increase diversity
Hessischer Kulturpreis für Countertenor Andreas Scholl
Die Auszeichnung, die der Countertenor zusammen mit seiner Frau, der israelischen Pianistin Tamar Halperin, erhält, ist mit 45.000 Euro der höchstdotierte Kulturpreis in Deutschland. Beiden gelinge es, musikalische Brücken zu bauen.
Musikerbe-Stätten in Leipzig sollen Europäisches Kulturerbe werden
Die Bewerbung Leipzigs ist damit die einzige einer deutschen Stadt, die für den Bewerbungsdurchgang 2017 ausgewählt und an die Europäisch Kommission weitergeleitet wurde.
Musik heute
Elisabeth Brauß gewinnt Kissinger KlavierOlymp
Die 21-jährige hat den diesjährigen Kissinger KlavierOlymp gewonnen. Die Hannoveranerin setzte sich unter sechs Wettbewerbsteilnehmern im Alter zwischen 13 und 26 Jahren durch. Brauß habe die Jury "aufgrund ihres eigenständigen Zugriffs und ihrer Direktheit in der musikalischen Gestaltung" überzeugt.
Twitter
Classical Music @ClassicalMusic_ Reich at 80: we celebrate the master of minimalism in CM October! http://ow.ly/ts5r304EvG6 
Mental Health Fdn @mentalhealthnz Raising awareness of mental health issues through classical music #MHAWNZ https://t.co/1v7Vw0rLQl
Opera Magazine @operamagazine Opera's November 2016 preview http://conta.cc/2e2wS6J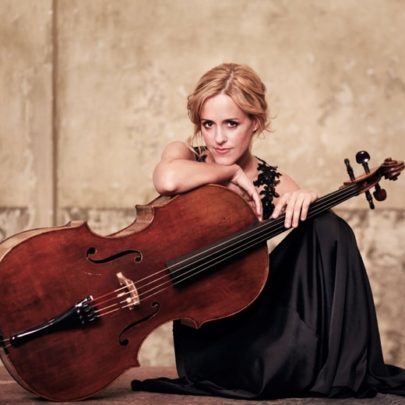 Cellist Sol Gabetta, who just won the Instrumentalist Cello title for her Vasks 'Presence' recording on Sony Classical. Photo taken by: Uwe Arens