In today's news: Riccardo Muti and Catherine Deneuve awarded the prestigious Praemium Imperiale. New Beethoven stamp to celebrate 250th anniversary of composer's birth. Australian Ballett performance cut short by a rat. Classical music is dead? The Würzburger Mozartfest in portrait. Meet the alpinist musicians who took their passion for music high into the Alps. Street in named after missing soprano. Leeds Piano Competition reveals audience engagement. Stephen Fry appointed ORA Singers president. Meet two composers leading charge for women at the Proms.
Rhinegold
Leeds Piano Competition reveals audience engagement events
Piano+, designed to offer entertainment and insight to competition audiences, includes masterclasses, talks and insight events with members of the competition jury, such as Paul Lewis and Imogen Cooper.
Rhinegold
Stephen Fry appointed ORA Singers president
Fry will lead the group into a new residency at LSO St Luke's from 2019.
The Telegraph
Meet the two composers leading the charge for women at the Proms: 'It's time to redress centuries of injustice'
Roxanna Panufnik and Anna Meredith are among the 22 female composers set to feature in the Proms this year. They tell Ivan Hewett why it's about time
BBC News
Australian Ballet performance cut short by rat
A hungry rat has been blamed for a power failure during a ballet in Australia. Dancers and audience members were plunged into darkness during the second half of a Sleeping Beauty performance by the Australian Ballet.
Frankfurter Allgemeine
Klassische Musik ist tot? Von wegen!
Die Krise der Klassik wird regelmäßig heraufbeschworen: Doch die Nachfrage ist groß wie nie zuvor. Nicht nur ihre Zuhörer sind zahlreich – sondern auch die Formen der Darbietung.
NMZ
Catherine Deneuve und Riccardo Muti erhalten Praemium Imperiale
Die französische Schauspielerin Catherine Deneuve (74) und der italienische Dirigent Riccardo Muti (76) werden für ihr Lebenswerk mit dem Praemium Imperiale geehrt.
klassik.com
Neue Beethoven-Briefmarke wirbt für Jubiläum 2020
Im Vorfeld des 250. Geburtstages von Ludwig van Beethoven erscheint eine neue Briefmarke.
Platea Magazine
Génova dedicará una calle a la desaparecida soprano Daniela Dessì
El Consejo de la ciudad de Génova ha aprobado, por unanimidad y a propuesta de Luca Pirandoni, de Movimiento Cinco Estrellas, dedicar una calle a la soprano genovesa Daniela Dessì, fallecida en el verano de 2016, a los 56 años.
Spettacoli
Manu Delago: "Sono un montanaro che porta sulle Alpi la passione per la musica"
Il musicista ha realizzato un film e un disco durante una spedizione sulle montagne austriache con altri sette musicisti-alpinisti.
Twitter
#Today in 1900 FP of final version of Gabriel #Fauré's Requiem at the Paris World Exhibition in Paris. #MusicHistory #classicalmusic pic.twitter.com/b8QrgfC2aR

— Music History (@today_classical) July 12, 2018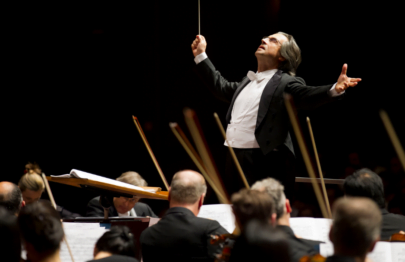 Riccardo Muti (c) Presse, Praemium Imperiale