In today's news: Jaume Santonja Espinós is appointed assistant conductor at the CBSO, Myleene Klass on cuts to music tuition in schools, Andrew Lloyd Webber to be honoured at Classic Brit Awards. Musical Director Evan Christ takes legal actions against the Staatstheater Cottbus. An interview on how the state funding the arts in Germany may need to be rethought, and three young conductors reach the second phase of the "Maestros of tomorrow" program. The French accordion icon Yvette Horner has died. An Aids researcher debuts as a composer.
Rhinegold
CBSO appoints new assistant conductor
The City of Birmingham Symphony Orchestra has appointed Jaume Santonja Espinós assistant conductor. He succeeds Jonathan Bloxham, who has held the position since 2016.
Classic FM 
Myleene Klass: cuts to music in schools are 'a travesty'
Presenter and musician Myleene Klass has condemned cuts to music lessons in schools, saying music "helped me with my algebra. It helps with your interpretation and learning of different languages."
The Telegraph
Male dancer who is gender fluid wins part with English National Ballet's female ensemble
For the first time in the modern era, a male dancer – who identifies as being 'gender fluid' – is performing as part of the female ensemble in The Sleeping Beauty.
The Times
Auctioneer will score big with Beethoven's Emperor Concerto manuscript
A two-page manuscript from one of Beethoven's most popular concertos is expected to sell for as much as $350,000 when it goes up for auction in New York today. The documents, in the German composer's own hand, date from 1809 and show ideas for the second and third movements of the Emperor Concerto.
The Stage
Andrew Lloyd Webber to be honoured at Classic Brit Awards
Andrew Lloyd Webber is to receive a special Classic Brit award for his services to musical theatre and arts education. Lloyd Webber will be presented with the special recognition award for musical theatre and education during a ceremony at the Royal Albert Hall in London on June 13.
Slipped Disc
Aids Research Pioneer makes his concert debut as composer
Dr Joseph Sonnabend was among the first to identify the Aids syndrome in New York in the early 1980s and one of the foremost campaigners for the needs of his patients.
Berliner Zeitung
Denkbar: Kunstförderung per Losverfahren Auch unter dem Radar entsteht Bemerkenswertes 
Als Ende Mai im Hebbel Theater vom bundesweiten Fonds Darstellende Künste zum neunten Mal der George-Tabori-Preis für freies Theater vergeben wurde, rechnete der Vorstandsvorsitzende Wolfgang Schneider bei der Begrüßung vor, dass man in den letzten 30 Jahren rund 3000 Projekte gefördert habe – mit insgesamt 17 Millionen Euro.
Deutscher Musikrat
Die Juroren haben entschieden: Gábor Hontvári, Clemens Mohr und Yura Yang erreichen die 2. Stufe im Förderprogramm des Dirigentenforums und werden "Maestros von Morgen". Zudem kann sich Gábor Hontvári über den Ernst-von-Schuch-Preis freuen.
RBB Kulturradio
Krise am Staatstheater Cottbus beschäftigt jetzt auch Justiz
Im Streit um den Führungsstil wendet sich Generalmusikdirektor Evan Alexis Christ mit einer Kündigungsschutzklage gegen seinen Arbeitgeber.
France musique
Yvette Horner, la reine de l'accordéon, s'éteint à 95 ans
La célèbre accordéoniste et reine des bals populaires Yvette Horner est décédée lundi à l'âge de 95 ans à Courbevoie.
Twitter
And in more conductor news, @WNOtweet has launched a new programme for female conductors, offering a residency with the company: https://t.co/lvEgEwfj4i

— BBC Music Magazine (@MusicMagazine) June 11, 2018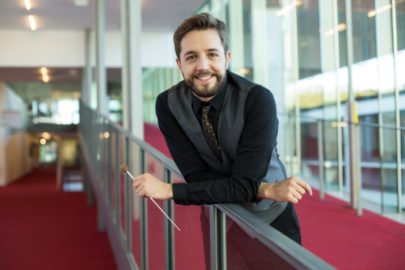 Jaume Santonja Espinós