Classical News
In our news today, Kah Chun Wong wins the Bamberg Symphony's Mahler Conducting Competition, a campaign has been launched to save the European Union Youth Orchestra and Scottish Opera might have a hit with its new Mikado.
pizzicato
Masur Protégé wins Mahler Conducting Competition
Kah Chun Wong (*1986) from Singapore won First Prize at the Mahler Competition of the Bamberg Symphony.
EUYO
We are beginning a campaign to try to help safeguard a sustainable future of the European Union Youth Orchestra. If you would like to contribute to this campaign there are several ways to do so.
The Spectator
Scottish Opera could have a hit on its hands with this new Mikado
You have to be quite silly to take Gilbert and Sullivan seriously. But even sillier not to. G&S is still a litmus test for a particularly British type of operatic snobbery: 'Is there a place for Gilbert and Sullivan in the 21st century?' asked a Radio 3 presenter last year, about the time that ENO's new Pirates of Penzance broke all audience records for live cinema relays in the UK.
BBC News
Michael Crawford 'terrified' ahead of West End return
Michael Crawford says he is "terrified" as he prepares to return to the West End stage for the first time in five years at the end of the month.
Classical Music Magazine
NAfME CEO steps down following remarks on diversity
The executive director and chief executive of the US-based National Association for Music Education Michael Butera stepped down on 11 May.
Kent Music announces technology-focused Project 14 course
Kent Music's Orchestra ONE Project 14 course will take place 1-5 August at Maidstone's Cornwallis Academy.
npr music
Even Scarier Than The Book Or Movie: 'The Shining' Is Now An Opera
The Shining was Stephen King's first hardback bestseller. Stanley Kubrick's film version was listed by no less than Martin Scorcese as one of the scariest horror films ever made. Now, the story is an opera.
Musik heute
Christoph Eschenbach mit Brahms-Preis ausgezeichnet
Der Dirigent und Pianist Christoph Eschenbach ist am Donnerstagabend mit dem Brahms-Preis 2016 geehrt worden.
klassik.com
Querelen um Film über Florence Foster Jenkins
Die Sopranistin Julia Kogan beansprucht Rechte als Co-Autorin am Drehbuch der Neuverfilmung über das Leben von Florence Foster Jenkins.
pizzicato
Maria Guleghina erlitt Lebensmittelvergiftung in Wladiwostok
Die in Luxemburg lebende russische Sopranistin Maria Guleghina musste nach einer in einem Restaurant in Wladiwostok erlittenen Lebensmittelvergiftung aus der 'Tosca'-Produktion des Mariinsky Theaters in der am Nordpazifik gelegenen russischen Hafenstadt ausscheiden.
Twitter
Petroc Trelawny @PetrocTrelawny Bravo @NealCooper1 for what sounds like a triumphant last minute rescue job @RoyalOperaHouse #tannhauser last night.From auditorium to stage
Top Classical News @topcmnews #SaveEUYO http://bit.ly/223CBwo  #ClassicalMusic
The Strad @TheStradMag Video: #cellist Guy Johnston @cellojohnston talks about the moment his string snapped at the @BBCYoungMus in 2000 http://bit.ly/1XncK21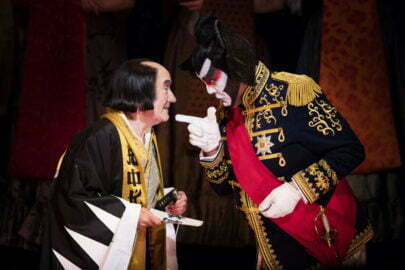 Photograph: James Glossop