Gramophone
Sir John Eliot Gardiner to present 12-hour Bach celebration
Easter Monday event to take place at the Royal Albert Hall in 2013
Classic FM
Music teachers honoured in MTOTY awards at Schools Prom
Richard Hallam MBE and Keith Farr are both honoured at Monday's Schools Prom with Classic FM Music Teacher Of The Year Awards.
Classical Music Magazine
Classical figures in Standard's list of 1,000 most powerful Londoners
London's Evening Standard has released its list of London's '1,000 most influential people', with 22 entries under the classical music category, 11 appearing in the list for the first time.
The New York Times
Philharmonic Establishes Partnership With Shanghai
China long ago emerged as a kind of promised land for classical music, and two of America's great orchestras are wading in with big projects and very different approaches. You could call one the Philadelphia flier and the other the Big Apple plod.
Slipped Disc
In search of my grandfather: a leading violinist goes looking for a hero
Daniel Hope, the international soloist, wrote a profound piece for Slipped Disc three months ago about his grandmother's home in Berlin, seized by the Nazis and used by two appalling war criminals, Ribbentrop and Speer.
Just in: Opera festival appoints new chief, with reinforcements
Garsington Opera has named the conductor Douglas Boyd as artistic director, succeeding the excellent Anthony Whitworth-Jones, who has retired.
NPR Music
A Veteran's Standing Ovation, 70 Years In The Making
When you reach a certain age, big life surprises tend to come few and far between, unless you're Harold Van Heuvelen.
The Telegraph
The opera novice: Indulge yourself in La bohème, the ultimate weepie
Puccini's great opera might lack depth but it packs a great emotional punch, says Sameer Rahim.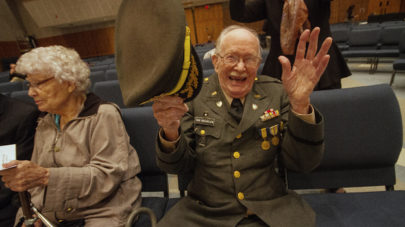 NPR