In today's news: Opera North launches Orchestra Academy, Classical Music is played in McDonalds to reduce crime, Opera is used to change perception of films, Ian Jackson composes for dogs, Fyfe and Iskra Strings release collaborative EP, Berlin wants to buy the popular centre of cultural events "Radialsystem V" in Berlin Friedrichshain and the International Festival for Time Issues "MaerzMusik" will take place from 16 to 25 March 2018 in Berlin.
Classical Music
Opera North launches Orchestra Academy
Opera North is launching an Orchestra Academy in a bid to support and inspire the next generation of orchestral musicians in the north of England.
Evening Standard
Shepherd's Bush McDonalds turns off wifi and plays classical music 
A McDonald's restaurant plagued with anti-social behaviour claims to have successfully reduced disorder by playing classical music.
OperaWire
Opera Meets Film: 'Ombra Mai Fu' As a Call For Respect in 'A Fantastic Woman'
This feature is dedicated to exploring the way that opera has been employed in cinema by taking a section or whole film and alter its perception by using music.
Classic FM
Composer finds out what's the most relaxing music for dogs 
Composer Iain Jackson teamed up with a team of veterinary experts to create the perfect piece of music to calm your dog – the performed the piece at Crufts this weekend
Complete Music Update
Fyfe and Iskra Strings have announced a new collaborative EP
New collaborative EP to be released later this year, blending classical music and pop with uncommonly successful results.
The Violin Channel
Applications Open for Hannover's 2018 Joseph Joachim International Violin Comp
Applications are now open for the 2018 10th Joseph Joachim International Violin Competition, in Hannover, Germany.
American Composer & Musicologist Dr Olly Wilson Has Died – Aged 80
Prominent African-American contemporary composer and musicologist Dr Olly Wilson has passed away – aged 80.
klassik.com
Land Berlin will Radialsystem kaufen
Das Land Berlin plant die Übernahme des Radialsystems V in Berlin Friedrichshain. Der Erwerb des Zentrums für Kulturveranstaltungen wäre möglich, da der private Eigentümer das Areal an der Spree in einigen Wochen verkaufen möchte.
nmz
MaerzMusik – Festival für Zeitfragen 2018 vom 16. bis 25. März in Berlin
Am Freitag, den 16. März, starten die Berliner Festspiele MaerzMusik – Festival für Zeitfragen (16. bis 25. März). Unter dem Titel "Time Wars" eröffnet das Festival die Möglichkeit zu außergewöhnlichen Musikerfahrungen und zum Nachdenken über den "Zeitkrieg" unserer Gegenwart.
Jazzmusiker Walter Eichenberg mit 95 Jahren gestorben
Der langjährige Leiter des Rundfunktanzorchesters Leipzig, Walter Eichenberg, ist tot.
Orgelwoche Nürnberg widmet sich dem Thema «Zeit»
«Zeit» ist das Thema der diesjährigen Internationalen Orgelwoche Nürnberg (ION). Im Zentrum stehen dabei die verschiedenen Arten, Zeit wahrzunehmen – nicht zuletzt die Idee, sich in ihr verlieren zu können.
france musique
Steven Spielberg songerait à réaliser un biopic sur Leonard Bernstein
Selon le journal américain Variety, le réalisateur Steven Spielberg envisagerait de réaliser un film sur la vie du compositeur et chef d'orchestre Leonard Bernstein, dont on célèbre le centenaire en cette année 2018.
Twitter
BBC Radio 2_@BBCRadio3:  "I don't think that music can tell us anything about physics, but it may help us to understand our own awareness of time." #StephenHawking
http://bbc.in/2Gtn4Ss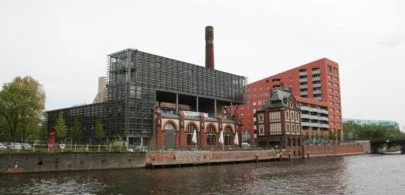 Radialsystem V, © Sir James unter CC BY 3.0