The Telegraph
Opera singers need to be sensitive
Royal Opera House director of music Antonio Pappano is wrong to moan about stars who cancel shows, says Rupert Christiansen.
The Times
Royal Opera's Nabucco conductor: Verdi represents the Italian people
To paraphrase the great football sage Bill Shankly, for the conductor Nicola Luisotti the music of Giuseppe Verdi isn't a matter of life and death.
Classical Music Magazine
Ticciati renews contract with SCO until 2018, as 2013/14 season announced
Scottish Chamber Orchestra principal conductor Robin Ticciati is to renew his contract with the orchestra until 2018, it was revealed today as part of the announcement of the orchestra's 40th anniversary season in 2013-14.
New Music Box
Reports of the Death of Opera Have Been Greatly Exaggerated
Two worthy and penetrating studies of opera take as their premise the idea that the form is dead.
Huffington Post
'Play Me I'm Yours': The Global Public Piano Project Scatters Keys Across Monterey For All To Play
If you find yourself walking the streets of Monterey, California, and pass by a piano curiously stationed in your path, there's no need to scratch your head.
The Guardian
BitTorrent goes straight in effort to end association with piracy
Company best known for enabling illegal file-sharing attempts to find a solution to music industry's downloading problem
Music Week
ACM launches new fast-track courses
ACM (The Academy of Contemporary Music) is to offer all new performance and production students an Accelerated Learning Programme, to enable them to graduate with a degree aged 19.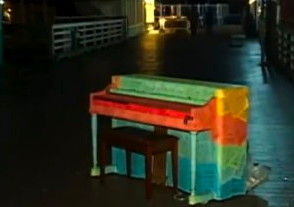 Huffington Post