Gramophone
Non-stop Beethoven at Berlin's Konzerthaus
A 12-hour Beethoven marathon welcomes Iván Fischer as chief conductor of the Konzerthausorchester Berlin
Classic FM
Nigel Kennedy UK tour dates confirmed for spring 2013
Nigel Kennedy has confirmed plans to tour the UK in April and May 2013.
Slipped Disc
Barenboim, 70 tomorrow, launches music academy for the Middle East
He has raised 20 million Euros from the German Bundestag and another 8.5  million from private donors.
Just in: Last chords tonight for South Africa's failing orchestra
The Johannesburg Philharmonic gives its last concert tonight before closure. It has been placed under bankruptcy protection and is emitting airy talk of reorganization.
A famous quartet is silenced by a musical thief. Your help is urgently required
We've just had a call from the organisers of the Brodsky Quartet's 40th anniversary tour of Holland.
Daily Mail
Classic FM goes to war on Radio 3 'copycats': Station accuses BBC of stealing string of ideas following rival network's revamp
Global Radio Network accuses BBC of trying to steal Classic FM listeners
Daily Express
Opera Chief is name in the frame to be new BBC boss
LORD Patten has wasted no time in searching for a new BBC boss. He is believed to have sounded out Royal Opera House chief Tony Hall.
Opera Now
Don't miss the spectacular 2013 Verona Festival centenary season
For opera lovers, the Arena di Verona offers the most dramatic setting for a truly memorable evening.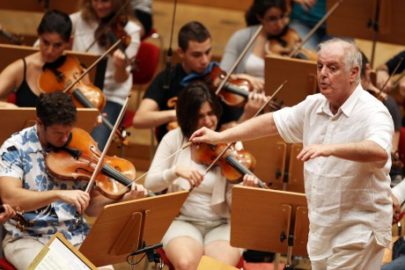 Berliner Morgenpost via Slipped Disc