The Guardian
Kathleen Ferrier – remembering one true voice
Just a single phrase of Kathleen Ferrier's singing reveals a voice of extraordinary power and expression. She's still an inspiration, nearly 60 years after her tragically early death.
The Observer
National Youth Orchestra of Great Britain, St John Passion, Polyphony; Rigoletto – review
Fiona Maddocks reviews various musical events including the LA Phil, the Simon Bolivar Symphony Orchesta and Gustavo Dudamel.
The Independent
Lesley Garrett: 'I lost my voice in the middle of an opera; I thought my career was over'
Opera is the greatest artistic collaboration known to mankind, as it combines visual art, orchestral overtures, a powerful dance element, a vocal element and, most importantly, powerful drama.
International Conductors' Academy of the Allianz Cultural Foundation, Royal Festival Hal
A showcase for three young conductors, a malfunction at the printers, and for the first time in my experience no programmes for the audience and the prospect of blind-tasting their talents.
The Telegraph
Colin Lee: Missing a tenor? Blame the accountant…
A modest tenor may sound like a contradiction in terms, but that's how I'd describe Colin Lee. Even more exceptionally, he combines his international operatic career with work as a chartered accountant.
Can non-Christians appreciate Bach's St Matthew Passion?
Bach's St matthew Passion is  musical masterpiece. But can you understand it without sharing its creator's beliefs?
The New York Times
Reconfigured Requiem with Words to the Force
For the Hungarian conductor Ivan Fischer the unexpected is the norm.
The Times
Why opera is booming in South Africa
This is an unlikely home for opera. Yet what was once condemned by the post-apartheid government as the white man's colonial culture has been taken up with gusto by South Africa's townships.
The Titanic Requiem at Westminster Central Hall, SW 1
Works inspired by the great ship run the full range, from Beryl Bainbridge's first-class novel, Every Man for Himself, all the way down to Julian Fellowes in steerage.
Gramophone
The Halle perform Bernstein's Wonderful Town in Salford
UK audiences would enjoy an opportunity to hear Wonderful Town played by a full-sized symphony orchestra; Sir Mark Elder, describes it as 'essentially a big string section with a big band – a Wagner orchestra that swings'.
Jessica Duchan
Anderszewski wins Recording of the Year at BBC Music Magazine Awards
Here's that exciting piano news we were waiting for: Piotr Anderszewski has won Recording of the Year at the BBC Music Magazine Awards for his CD of Schumann's Humoresque, Gesange der Fruhe and Studies for Pedal Organ.
Financial Times
The London Olympics will be celebrated in new work by 20 composers. But what connects their music with sport?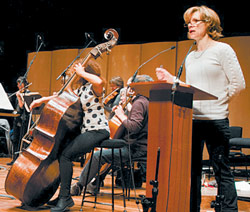 Juliet Stevenson reading Melanie Reid's text for 'Spinal Chords'