Classical News
In our news today, a 17-year-old cellist from Nottingham has been named as the winner of BBC Young Musician 2016, Ukraine opera singer Jamala wins Eurovision, Katherine Jenkins and other stars performed at Windsor Castle for the Queen's 90th birthday & the winners of this year's International Opera Awards were announced.
BBC News
Cellist from Nottingham named BBC Young Musician 2016
A 17-year-old cellist from Nottingham has been named as the winner of BBC Young Musician 2016. Sheku Kanneh-Mason, a Year 12 pupil at the comprehensive Trinity Catholic School and the Royal Academy of Music, said winning was "a wonderful feeling".
Mirror
Who is Jamala? The Ukraine opera singer who won Eurovision
Despite the best efforts of that renowned European country Australia, it was the Ukraine that triumphed at Eurovision. And for many it was a symbolic David and Goliath victory as they trounced political rivals Russia.
BBC News
Queen's 90th birthday: Stars perform at Windsor Castle
A host of stars performed for the Queen at a special event to mark the monarch's 90th birthday. Kylie Minogue, Katherine Jenkins and Gary Barlow were among those who sang on a night of military and musical displays in Windsor Castle's grounds.
Classical Music Magazine
International Opera Awards 2016 winners announced
The winners of this year's International Opera Awards were announced in a ceremony held on 15 May at the Savoy Theatre, London. Live performances on the night came from 2016 award winners Ermonela Jaho, Gregory Kunde and Ann Hallenberg; past winners Stuart Skelton and Anna Bonitatibus; and National Opera Studio young artists Kate Howden and William Morgan, all accompanied by Roger Vignoles.
Classic FM
Neville Marriner warns EU against closure of youth orchestra
The EUYO announced yesterday that it would be forced to close at the end of the summer because funding from the EU has dried up. Meanwhile an EU commissioner said he "regrets" the decision and Neville Marriner has weighed in on the ensuing row.
pizzicato
Paata Burchuladze quits opera career for Politics
When Paata Burchuladze announced in fall 2015 that he would stop singing and form a Foundation, many believed this organization could turn into a political party.
Schlechte Kritiken für Cecilia Bartolis Salzburger Maria
Überwiegend schlechte Kritiken bekam Cecilia Bartoli für ihr Rollendebüt als Maria in Bernsteins 'West Side Story' bei den Salzburger Pfingstfestspielen. Die bald fünfzigjährige Sängerin ließ sich als alte Maria retrospektiv in die Handlung einbauen, in der Michelle Ventimiglia auf der Bühne agierte, während die Bartoli als ihr musikalischer Schatten sang.
Musik Heute
Faustoper "Mefistofele" neues Leben eingehaucht – Umjubelte Premiere in Baden-Baden
Arrigo Boitos "Mefistofele" steht für einen der größten Flops der italienischen Operngeschichte. Die Uraufführung 1868 in Mailand dauerte gute sechs Stunden und endete im Tumult.
Cecilia Bartoli in "West Side Story" gefeiert
Die Salzburger Pfingstfestspiele sind am Freitagabend mit einer Premiere von Leonard Bernsteins Musical "West Side Story" eröffnet worden. Das Publikum in der Felsenreitschule feierte die italienische Mezzosopranistin Cecilia Bartoli als Maria.
Twitter
Classic FM @ClassicFM #EUYO closure: Neville Marriner warns EU to protect its young talent
Top Classical News @topcmnews Barihunks take top honors at Loren Zachary Vocal Competition http://bit.ly/22cId7E  #opera #ballet
KlassikAkzente @klassikakzente Emil Gilels ist der pianistische Geheimtipp schlechthin. Jetzt erscheinen seine vollständigen Aufnahmen für die DG: http://www.klassikakzente.de/news/klassik/article:236895/klaviergenie-limitierte-edition-von-emil-gilels …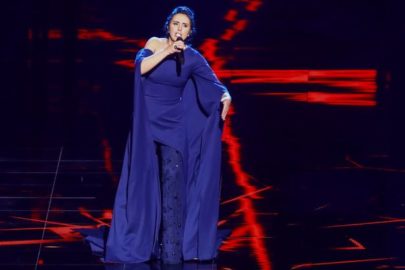 Photograph: BBC