Classical News
In today's classical news, new plans for a new arts centre in the heart of Edinburgh have been announced. The 5th London Contemporary Music Festival will take place on 15th, 17th and 18th of December. Royal Albert Hall presents new spring music festival Love Classical 2017. Also, Nigel Kennedy talks about hate crime and Brexit, as he prepares to release a new album of his compositions.
Classical Music Magazine
New concert hall proposed for Edinburgh
The Scottish Chamber Orchestra and the charitable trust Impact Scotland have announced plans for a new arts centre in the heart of Edinburgh.
LCMF announces Julius Eastman focus
The fifth London Contemporary Music Festival will offer the world's first major overview of American composer and performer Julius Eastman.
Royal Albert Hall presents Love Classical 2017
Nigel Kennedy, Lang Lang and Alison Balsom will headline Love Classical 2017.
Manchester International Festival announces new initiative
Manchester International Festival's new artistic director John McGrath has announced My Festival: MIF's Creative Community.
Pizzicato
ICMA Published Nomination List 2017
The ICMA nomination list for 2017 is available. For the 2017 awards the Jury of the International Classical Music Awards (ICMA) has nominated 321 audio and video productions (down from 364 in 2016) from 119 labels (up from 115 in 2016).
Carl Bechstein Wettbewerb kündigt Gewinner für 2016 an
Der Carl Bechstein Wettbewerb gab seine Gewinner für 2016 bekannt.
ITV News
Nigel Kennedy: Maverick violinist on his career, talent shows and Brexit
Nigel Kennedy has spoken out about the hate crime that has followed June's Brexit vote, as he prepares to release a new album of his compositions.
Broadway World
Young Jean Lee, Peggy Shaw and More Among United States Artists 2016 Fellows
United States Artists (USA) has announced the 2016 USA Fellowship Awards. This year, 46 artists across nine creative disciplines will receive unrestricted $50,000 cash awards.
Choir and Organ Magazine
Oxford choral foundations to host Frideswide Voices
Oxford's Frideswide Voices has announced that Christ Church, Magdalen and New College will host termly residences for its rehearsals and services this year.
Slipped Disc
The company blames its demise on poor attendance at Rigoletto, directed by Giancarlo del Monaco.
San Fransisco Classical News
Taiwan Embraces San Francisco Symphony on Tour
After the orchestra's first visit to Korea last week (part of their eighth tour of Asia), San Francisco Symphony musicians took a charter flight to Tainan — the first-ever direct flight from Seoul — to perform a concert that was the highlight of the southern Taiwanese city's Rainbow Festival (Chai Hong).
Frankfurter Allgemeine Zeitung
Spätestens als er wochenlang nicht ans Telefon ging, um sich die Entscheidung des Nobelpreiskomitees anzuhören, hätte man das ahnen können: Bob Dylan schwänzt die Verleihung.
Deutschlandradio Kultur
Existenzbedrohend für die Musikverlage
Die Verwertungsgesellschaft Gema darf nicht länger Musikverlage pauschal an den Einnahmen aus Musik-Nutzungsrechten beteiligen. Viele Verlage stünden dadurch vor dem Aus oder würden jede Risikofreude verlieren, kommentiert Musikkritiker Uwe Friedrich. Besonders für die Klassikszene sei das fatal.
Musik Heute
Volkswagen-Stiftung fördert Wagner-Forschung mit 400.000 Euro
Die Volkswagen-Stiftung unterstützt die wissenschaftliche Erschließung der Richard-Wagner-Sammlung in Eisenach mit 400.000 Euro.
France Musique
Séisme en Nouvelle-Zélande : l'orgue de la cathédrale de Wellington sérieusement endommagé
Le séisme d'une magnitude de 7,8 qui a touché la Nouvelle-Zélande lundi 14 novembre a causé la mort de deux personnes ainsi que d'importants dégâts. L'orgue de la cathédrale de Wellington a particulièrement souffert.
Twitter
The Economist @TheEconomist Does classical music still matter? A bustling crowd reduced to silence by a busker playing Bach suggests so http://econ.st/2fSNONW
Classical Music News @ClassicalMusic Just in: Bob Dylan won't attend Nobel ceremony http://dlvr.it/MgvQVB #ClassicalMusic
The Violin Channel @violinchannel http://ow.ly/xjfM306eO6I SAD NEWS | Veteran Boston Symphony Principal Cellist Jules Eskin Has Died @BostonSymphony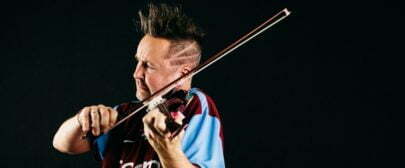 Photo: Rhinegold/ Nigel Kennedy