The Philharmonia Orchestra with principal conductor Esa-Pekka Salonen have announced their new season at Southbank Centre, which will include celebrations for the orchestra's 75th anniversary.
Highlights will include:
A year-long festival in 2020 to mark the orchestra's 75th anniversary
A Beethoven Day, which will be an an immersive day of performances, talks and free events to mark the 250th anniversary of Beethoven's birthday on March 2020
The announcement of the full programme for Weimar Berlin: Bittersweet Metropolis, which will explore the music, culture and politics of Germany during the Weimar Republic
A Mahler focus, which will feature principal guest conductor Jakub Hrůša conducting the 'Resurrection' Symphony and Paavo Järvi conducting the Fifth Symphony
A Russian music theme, which will be led by principal guest conductor Santtu-Matias Rouvali who will conducts excerpts from Swan Lake, Prokofiev's Symphony No 5 and two Rachmaninov piano concertos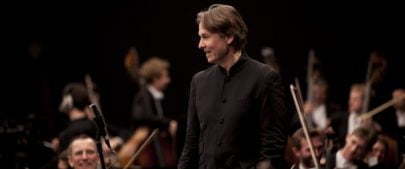 Managing director Helen Sprott said: 'An exciting season lies ahead for the Philharmonia with a programme that invites audiences to travel through time and to experience pivotal moments in cultural history: towards a time and place – Weimar Germany – when art forms creatively collided against a backdrop of political instability; back to Vienna in 1808 and Beethoven's extraordinary 'Akademie' concert; and then forward again to 1945 and the founding of this great Orchestra, which we'll celebrate throughout 2020.
'We are delighted to be collaborating with such a wealth of artistic talent in 2019/20 and our commitment to working a diverse roster of artists is demonstrated by the growth in our conductor relationships. We are delighted that Elim Chan and Xian Zhang return to conduct subscriptions concerts.'
---
Bauer has confirmed the full presenting line-up for its new classical music station Scala Radio, with Anthea Turner, Alexis Ffrench, Luci Holland, Faye Treacy and Hannah Cox added to the schedule.
They join names previously announced including Charles Nove at breakfast, Simon Mayo on mid-mornings, Sam Hughes on afternoons and Mark Forrest on drive.
Hannah Cox from Magic will present the 10pm to 1am weeknight slot, with 'classical music inspired love stories'. Evenings 7-9pm will begin with a launch week series about the London Symphony Orchestra – in Scala Radio Spotlight fronted by Jack Pepper.
Anthea Turner joins former LBC and BBC London presenter Chris Rogers on a Sunday brunch slot at 10am, starting from 31st March.
Anthea says: "Music and conversation are two of the greatest things in life, so it'll be such a pleasure to bring weekend playfulness to Scala Radio each Sunday."
Pianist and composer Alexis Ffrench will present a Sunday afternoon show 3-5pm, playing music that has influenced him. We're told to 'expect everything from Chopin to Shostakovich and Beach Boys to Beastie Boys as he looks at the relationship between classical and contemporary'.
The station will also have a weekly roundtable programme, Highly Rated, on Friday nights at 7pm where guests will select their cultural recommendations for the week ahead.
Steve Parkinson, Group Managing Director, said: "Scala Radio is reflective of modern life and the place classical music has within it – we are excited for the station to launch on the 4th of March and this varied line-up of presenters to bring it to life."
Scala Radio will launch in two weeks' time – at 10am on Monday 4th March.
---
Ron Howard's biographical film about singer Luciano Pavarotti will be out in theatres on June 7, CBS announced. Created from a combination of Luciano Pavarotti's genre-redefining performances and granted access to never-before-seen footage, the film will give audiences around the world a stunningly intimate portrait of the opera singer.