Classical News
In today's classical news, Paul Lewis and Adam Gatehouse, joint Artistic Directors of Leeds International Piano Competition, talk about the reinvention of the competition. David Teie, an US composer and cellist, released Music For Cats after years of research. Also, Santa Barbara Chamber Orchestra launched the "Classical Connections" program to study cognitive benefits of classical music.
The Guardian
Paul Lewis: how we're transforming 'the Leeds' to nurture tomorrow's pianists
The Leeds piano competition is being given a radical, creative reboot. Paul Lewis, one of its new directors – alongside Adam Gatehouse – explains the plan.
Today Online
Album for cats tops classical music charts
David Teie, an US composer and cellist, released Music For Cats after years of research.
Broadway World
Santa Barbara Chamber Orchestra Launches Program to Study Cognitive Benefits of Classical Music
The Santa Barbara Chamber Orchestra (SBCO) has launched "Classical Connections," an innovative program to study the therapeutic benefits of classical music for individuals suffering cognitive or neurological impairment.
Classical Music Magazine
RSNO Composers' Hub announces 2016/17 intake
The Royal Scottish National Orchestra has announced the second intake for its Composers' Hub scheme.
Help Musicians UK announces latest career development grants
Help Musicians UK has announced the latest recipients of its career development bursaries.
Voice 2.0 – Peninsula Arts Contemporary Music Festival 2017
The three-day festival, which will take place 24-26 February 2017 at Plymouth University, will showcase new technologies and novel approaches to composition, performance and participation in music under the theme VOICE 2.0.
Washington Post
Russian city cancels 'Jesus Christ Superstar' after protest
A theater in Omsk, one of Russia's largest cities has cancelled a planned performance of the musical "Jesus Christ Superstar" following protests by an organization of conservative Orthodox Christians. Local group "Family, Love, and Fatherland" filed a complaint that the musical mocked religious faith.
24-Year-Old Conductor Makes History at Broadway
Madeline Smith made her Broadway debut October 14 conducting the Broadway production of Waitress. At age 24 she is believed to be the youngest woman to conduct in a Broadway pit.
Der Tagesspiegel
Iván Fischer verlässt das Konzerthaus nach 2018
Iván Fischer, Chefdirigent des Konzerthausorchesters Berlin, wird seinen Vertrag nicht über 2018 hinaus verlängern – zum Bedauern seiner Musiker. Mit neuen Formaten und spannenden Ideen konnte Iván Fischer das Konzerthausorchester profilieren.
Codex Flores
Heidelberger Frühling zeichnet einen Hotelier aus
Klaus Lauer, Gründer und Leiter der Römerbad Musiktage und Intendant der Badenweiler Musiktage, erhält den mit 10.000 Euro dotierten Musikpreis des Heidelberger Frühling 2017. Das Musikfestival vergibt die Auszeichnung jährlich an Persönlichkeiten, die sich «substanziell und nachhaltig für die Vermittlung von klassischer Musik einsetzen».
Musik Heute
Yuja Wang wird Musical Americas "Künstlerin des Jahres"
Die chinesische Pianistin Yuja Wang ist von "Musical America" zur Künstlerin des Jahres 2017 ernannt worden. Die Karriere der 29-Jährigen übersteige die jedes anderen Pianisten in der heutigen Öffentlichkeit.
Twitter
Classical Music @ClassicalMusic_ .@PRSFoundation announces New Music Biennial 2017 composer residencies & Minute of Listening
The Royal Opera @TheRoyalOpera How the musical tide turned against Shostakovich: http://www.roh.org.uk/news/knocked-b… #ROHnose
Classic FM @ClassicFM This clip of a Liverpool NHS Emergency Medical Technician casually belting out some opera is going viral: https://t.co/xVhfKz9ubX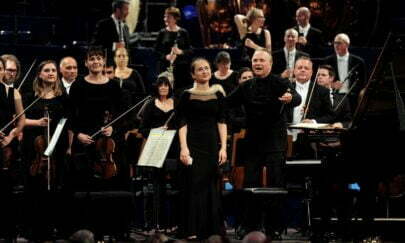 Photo: Leeds International Piano Competition