In today's Classical News, ROH announce new work by George Benjamin, and CBSO receive a £250,000 contribution for education.  27-y-o Ben Gernon has been appointed Principal Guest Conductor of the BBC Philharmonic, and Jamie Barton Wins Met Opera's Beverly Sills Award. Verona's arena looks set to get protection from the rain at last, and 355 people have back a crowdfunded project to replace a cello destroyed in flight on United Airlines. 
The Guardian
Royal Opera to premiere new work by George Benjamin
The Royal Opera House has announced that it will stage the world premiere of a new opera by George Benjamin and Martin Crimp. Benjamin's third opera will be called Lessons in Love and Violence, and continues his very successful collaboration with the British playwright.
Rhinegold
CBSO receives £250,000 contribution to education programme
Philanthropists Clive and Sylvia Richards have presented the City of Birmingham Symphony Orchestra with £250,000 towards its education programme over the next five years.
BREMF announces Creative Marketing and Programming Day
The Brighton Early Music Festival (BREMF) is holding a free training day on 19 February. Taking place at the Royal Academy of Music in London between 11am and 6pm, the day will be led by William Norris (OAE, Tafelmusik) and will look at creative ways to approach marketing and programming in order to reach new audiences.
Ben Gernon to become BBC Philharmonic principal guest conductor
Ben Gernon has been announced as principal guest conductor of the BBC Philharmonic. He will formally take up the position in autumn 2017.  The 27-year-old British conductor has worked with the orchestra for two years, conducting interactive concerts as part of The Red Brick Sessions and core repertoire. He has already presented a BBC Philharmonic 'Meet the Phil' event for local school children.
The Strad
League of American Orchestras condemns Trump administration US travel ban
The organisation has issued a statement reacting to the Executive Order temporarily banning citizens from seven Muslim-majority countries from entering America.
The New York Times
Jamie Barton Wins Met Opera's Beverly Sills Award
Jamie Barton, whose sumptuous mezzo-soprano can stretch over long, lyrical lines and cascade down coloratura runs, has won the Beverly Sills Award, the Metropolitan Opera's $50,000 annual prize for a young singer, the company announced on Tuesday.
BroadwayWorld.com
2017 Composers Now Festival to Open This February at DiMenna Center
The Composers Now Festival empowers living composers, celebrates the diversity of their voices, and honors the significance of their contributions to our society. On February 1, the eighth annual festival begins with a celebratory event at the DiMenna Center.
Pizzicato
Plans For The Coverage Of Verona's Arena Move On
The visitors of the Arena di Verona might soon be protected from rain. The city has announced the winners of a contest for the creating of a huge coverage to be built.
Süddeutsche Zeitung
"Es ist mir egal, ob sie mich umbringen, ich höre mit der Musik niemals auf"
Ein Frauenorchester aus Afghanistan ist zu Besuch in Deutschland. Die jungen Musikerinnen machen vielen Hoffnung, in ihrer Heimat aber bekommen sie Todesdrohungen.
Spiegel Online
Sein Bau markierte einen Aufbruch in der Architektur: Bis heute wirkt das Pariser Centre Pompidou wie eine bissige Anmerkung zum Kunstmarkt. So politisch und mutig sollte Museumsbau immer sein.
Klassik.com
Früherer Intendant der Bonner Oper Jean-Claude Riber gestorben
Der Regisseur und frühere Intendant der Oper Bonn Jean-Claude Riber ist tot. Er starb im Alter von 82 Jahren an seinem Wohnsitz in den Vogesen.
Musik Heute
Germeshausen wird Opernintendant in Dortmund
Heribert Germeshausen wird neuer Intendant der Oper Dortmund. Der Heidelberger Operndirektor soll das Amt zur Spielzeit 2018/19 antreten, teilte die Stadt Dortmund am Dienstag mit. 
Le Figaro
Hippocrate et Bacchus au château de Versailles
Une soirée de gala de la Charte de Paris contre le cancer était organisée dans les Grands Appartements royaux.
France Musique
Une étudiante reçoit le soutien des internautes suite à la destruction de son violoncelle
355 personnes se sont mobilisées sur internet pour venir en aide à une jeune étudiante dont le violoncelle a été détruit lors d'un vol sur la compagnie aérienne américaine United airlines.
Twitter
Classical Music News @ClassicalNews Pleasance Theatre Trust and SDTN announce new graduate scheme http://dlvr.it/NFjxbl  #ClassicalMusic

Music History @today_classical #Today in 1875 Death of English #composer William Sterndale #Bennett #MusicHistory #classicalmusic
Co.Design @FastCoDesign "It does break the mold in what's being done in classical music." http://buff.ly/2kowOV9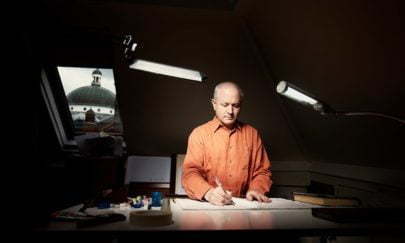 George Benjamin. Photograph: Matthew Lloyd