Classical News
In today's news, Barrie Kosky explains in The Times how "Culture is not religion." and the Strad announces that the 2015 Beijing International Music Competition will not include the violin section this year. Also serbian violinist Robert Lakatos wins the twelfth edition of the international Sarasate-Violin competition in Spain and Le Monde reports on the death of pianist John Taylor.
The Times
Barrie Kosky: 'Culture is not religion. There are no rules'
As the maverick director makes his Glyndebourne debut, he explains why he hopes to 'surprise, bewilder and shock'
The Independent
Johann Sebastian Bach: Leading soloists on the mastery and mystery of the genius composer
There's a composer whose genius is so unfathomable that he pushes musicians to the very brink.
BBC Music Magazine
We take a look at when not all went as planned at the Albert Hall…
Classic FM
A top singer's guide to getting through that long, long rehearsal
At the intensive rehearsal ahead of the Genesis Sixteen's 'Sound's Sublime Festival' in London it's all about singing well, having fun, and staying in good vocal health.
The Strad
Violin section cancelled at 2015 Beijing International Music Competition
The organisers of this year's Beijing International Music Competition (BJIMC) have announced that the violin section of this year's contest has been cancelled.
Spiegel Online
Jazz-Initiativen: Hilfe zur Selbsthilfe
11.500 Euro verdienen deutsche Jazzer durchschnittlich im Jahr – eine erschreckende Zahl. Auch aus diesen finanziellen Gründen schließen sich Musiker in Kollektiven zusammen.
Klassik.com
Popularklage gegen Bayerischen Rundfunk eingereicht
Der kontrovers diskutierte, vom Rundfunkrat bereits gebilligte Übertragung der UKW-Frequenzen von BR Klassik an den Jugendsender Puls ist nun Gegenstand einer juristischen Auseinandersetzung vor dem Bayerischen Verfassungsgerichtshof.
Geiger Robert Lakatos entscheidet Sarasate-Wettbewerb für sich
Der serbische Violinist Robert Lakatos hat die zwölfte Ausgabe des internationalen Sarasate-Violinwettbewerbs im spanischen Pamplona gewonnen. Der mit 20.000 Euro dotierte Preis wurde von dem Bezirk Navarra gestiftet.
Le Monde
Le pianiste John Taylor est mort
Hospitalisé depuis vendredi au CHU d'Angers (Maine-et-Loire), où il avait été admis après un infarctus survenu alors qu'il jouait au festival Saveurs jazz, à Segré, le pianiste britannique John Taylor est mort samedi 18 juillet.
Le Figaro
Messiaen à 2400 mètres d'altitude
Chaque année, le Festival Messiaen est une prouesse. Cette fois l'orage a fait reculer le Philharmonique de Strasbourg.
Twitter
Classical Today @ClassicalToday: Just in: Romanian and Norwegian win Domingo's Operalia http://goo.gl/G0CdOr
PR2 classic ‏@pr2classic: Violinist Midori's Bach solo sonatas and partitas now available on iTunes. Physical release at a later date. https://itun.es/i6L47m9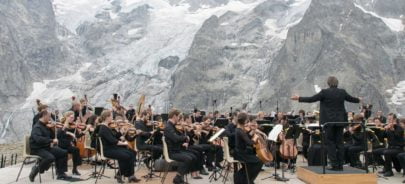 Photo credit: Colin Samuels