Classical News
Today's news, Buffalo Philharmonic Orchestra has reached an agreement and announces its new 6-year contract with its musicians. Royal Scottish National Orchestra's Chorus is looking to recruit new members. Also, English National Opera has announced changes to its board and governance.

The Buffalo News
Buffalo Philharmonic Orchestra announces 6-year contract with musicians
Good news announced Saturday at the Buffalo Philharmonic Orchestra's season-opening concert in Kleinhans Music Hall. BPO musicians have reached an agreement with the orchestra's management on a new six-year contract.
The Wall Street Journal
R.E.M.'s Mike Mills Blends Classical and Rock on Upcoming Album
R.E.M.'s Mike Mills spent decades performing in front of millions, but it's his latest work that makes him nervous. This past June, the bassist and keyboard player premiered a new piece of music, "Concerto for Violin, Rock Band and String Orchestra" with the Toronto symphony.
Classical Music Magazine
Alison Willis wins London Concord Singers composition competition
Alison Willis has won the London Concord Singers' 50th anniversary composition competition.
Young People's Chorus of NYC appoints first composer-in-residence
The Young People's Chorus of NYC (YPC) has appointed Michael Gordon as its inaugural composer-in-residence. The three-year position will see Gordon compose at least one new work inspired by New York City each season, give workshops and masterclasses, and serve on a committee as an artistic adviser.
The Royal Scottish National Orchestra's Chorus is recruiting for new members. Formerly the Glasgow Choral Union, the Chorus is Scotland's oldest choir still in operation and in 2018 will celebrate its 175th anniversary.
English National Opera has announced changes to its board and governance. Patti White, Patty Dimond and Phil Edgar-Jones have replaced Glyn Barker, David Buchler, and David Harrell (stepping down following seven, nine and nine years of service respectively) on the ENO board.
The Irish Times
Musician misses home but story ends on a positive note
Marja Gaynor loves the spontaneity of Irish musicians. In her native Finland musical gatherings are pre-planned, the violinist says.
New York Post
City's first orchestra music charter school to open in 2017
In a development that is sure to be music to the ears of city parents, a new, orchestral-themed charter school is scheduled to open in upper Manhattan next fall — the first of its kind in the Big Apple.
nmz
Thomas E. Bauer wird Intendant der Festspiele Europäische Wochen
Der Bariton und Kulturmanager Thomas E. Bauer ist zum neuen Intendanten der Festspiele Europäische Wochen Passau berufen worden.
Klassik heute
Piano Days in Hamburg – Klangerlebnisse mit neuester Hybridtechnologie
Klavierspielen ist schwer, teuer und nur etwas für Klassikfans? Mit diesem Klischee möchte CASIO aufräumen und ruft erstmals die CASIO Piano Days ins Leben.
Der Tagesspiegel
Wo die Freie Szene in Berlin zuhause ist
Berliner Off-Zentrale: Die Sophiensæle sind seit 20 Jahren der Flagship-Store des Freien Theaters und Tanzes.
Twitter
Speakeasy @WSJspeakeasy R.E.M.'s Mike Mills blends rock and classical music on upcoming album: http://on.wsj.com/2cCw3TF
BBC Philharmonic @BBCPhilharmonic "Classical Music is more relevant to the future" – an oldie but a goodie from Paul Morley in @Guardian
Classical Music @ClassicalMusic_ Two weeks until @CityMusicF's @RhinegoldLive! Don't miss out – reserve your free ticket now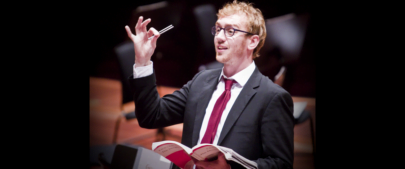 Photo by: Mark Hamilton (RSNO Chorus Director, Gregory Batsleer)