Classical News
In our news today, BBC Four explores diversity within the classical music industry in a documentary, creative industries figures pay tribute to Ed Vaizey & BBC Radio 3 has opened applications for industry conference. Also, opera singer Nicky Spence speaks about SongCycle 2016.
BBC Music Magazine
Diversity of classical music industry to be explored in new BBC Four documentary
Sheku Kanneh-Mason, the first black winner of BBC Young Musician, will appear in the new programme.
The Proms have a long and proud tradition of premiering works. Helen Wallace hunts out the great, the not-so-great and the truly startling.
Classical Music Magazine
Creative industries figures pay tribute to Vaizey
More than 160 individuals from the creative industries have signed a letter to the Telegraph paying tribute to former culture minister Ed Vaizey.
Echo Klassik 2017 award winners announced
The winners of this year's Echo Klassik awards have been announced. The awards will be presented on 9 October at Berlin's Konzerthaus.
International Arts Manager
Applications open for BBC Radio 3's industry conference exploring greater diversity in classical music composition
BBC Radio 3 has opened applications for a one-day event that will examine strategies for the enhanced inclusion of culturally diverse (BAME) classical music composers in mainstream programming.
SongCycle swaps lieders for lycra
Opera singer Nicky Spence is about to embark on a charity bike ride for the benefit of Help Musicians UK. He tells IAM about how the project came about, his preparations for the ride and the problem of changing from stage leathers to bike lycras.
Broadwayworld
Karina Gauvin withdraws from performance at Le Festival de Lanaudière due to health reasons; Tony Yike Yang replaces
Le Festival de Lanaudière regrets to announce that, for reasons of health, soprano Karina Gauvin will be unable to perform as scheduled on Friday, July 22 at 8 p.m. In her place, pianist Tony Yike Yang will play Chopin's Concerto No. 1 in E minor.
NRK
Interessa for norske festivalar er i vekst
Norsk musikkbransje fortel om auka interesse for norske festivalar. – Det er noko kult på gang i Noreg, seier den amerikanske musikkjournalisten Laura Studarus.
FAZ
Paavo Järvi macht das Musikfestival in Pärnu konkurrenzfähig für Europa und wird ab 2017 einen Teil davon exportieren. Das wird für Unruhe in der europäischen Festivallandschaft sorgen.
Tagesspiegel
Classic Open Air auf dem Gendarmenmarkt feiert sein 25-jähriges Bestehen. Es ist der lachende Vagabund unter den Sommerfestivals.
nmz
Sanierung von Bühnen: Frankfurts Kulturdezernentin will abwägen
Frankfurts neue Kulturdezernentin Ina Hartwig hat die Millionen teure Generalsanierung der Städtischen Bühnen als «Herausforderung» bezeichnet. Jede mögliche Maßnahme müsse mit großer Sorgfalt abgewägt werden, verlangte die SPD-Politikerin am Dienstag.
Twitter
Top Classical News @topcmnews Watch: Flute player summons whale from the depths http://bit.ly/29WKJZU  #ClassicalMusic
The Royal Opera @TheRoyalOpera Guaranteed to be in your head all afternoon: the Anvil Chorus from #ROHtrovatore http://www.roh.org.uk/news/watch-verdi-anvil-chorus-il-trovatore … ^M
Bamberg Symphony @bambergsymphony Last night: concert at Bad Kissingen. #thetravelingbook @AndreasHerzau @gomringernora @HatjeCantz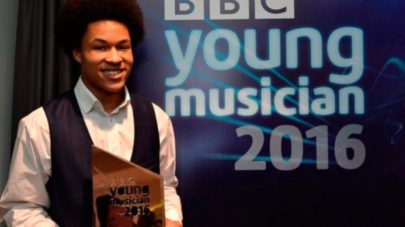 Photograph: BBC