Classical News
In our news today, Syrian soprano singer performs together with US refugee orchestra in New York, Dutch composer JacobTV creates multimedia opera & Decca DJs go classical. Also, South Africa will host the World Choir Games (WCG) 2018 for the first time & Judith Weir succeeds Sir Peter Maxwell Davies as president of the Royal Society of Musicians.
Daily Mail
Syrian opera singer performs with US refugee orchestra
Performing Puccini to a rapt New York audience, her soprano voice soaring to the rafters, Lubana al-Quntar may be the last person most Americans would think to be a Syrian refugee.
Classicalite
JacobTV, Dutch composer, creates multimedia opera of current events
Dutch experimental composer JacobTV, né Jacob ter Veldhuis, employed a unique collaging method to arrange his new multimedia piece, The News. The avant-pop orchestration uses clips of news footage to create a sensory-straining "reality opera."
International Arts Manager
A new album has paired up some of the world's biggest DJs with some of the best-known pieces of classical music. Re:works makes use of the Decca Classical catalogue, and features remixes by Kate Simko, Mr Scruff, Henrik Schwarz, Starkey, Fort Romeau, Patrice Bamuel and Martin Buttrich.
World Choir Games set for South Africa
For the first time in its history the World Choir Games (WCG) will take place on the continent of Africa, with South Africa selected as the 2018 host. The event, which has run since 2000 for amateur choirs, is billed as 'the Olympic games of choral music,' and will feature thousands of participants from all over the world.
The Telegraph
The Barber of Seville: 'The most beautiful comic opera in existence'
This is how Verdi described Rossini's opera. Ahead of our live stream of Glyndebourne's production of Barber, Richard Osborne, Rossini's biographer, underlines what makes it great.
Classical Music Magazine
Royal Society of Musicians appoints Judith Weir as new president
The Royal Society of Musicians has appointed Judith Weir as its new president following the death of Sir Peter Maxwell Davies earlier in 2016.
Chronicle live
Gateshead-born Jonathan Bloxham lands plum role with top orchestra
The former member of Gateshead Youth Orchestra is to join City of Birmingham Symphony Orchestra.
BBC News
Only 14% of the UK pays to stream music
Only 14% of the British public pays for a music streaming subscription, according to new research. The report, for trade paper Music WeekAlban Berg , also showed that one in 10 people regularly borrowed someone else's subscription.
Adaptistration
2016 Orchestra Compensation Reports: Executives
When it comes to executive compensation, the 2013/14 season was the first in a while where a number of the traditionally highest paying executive positions which went unfilled for a number of years were finally occupied.
pizzicato
Denkmal für Alban Berg in Wien enthüllt
Der Komponist Alban Berg wird in Wien mit einem neuen, modernen Denkmal gewürdigt, das am Montag neben der Staatsoper auf dem Herbert-von-Karajan-Platz installiert worden ist.
klassik.com
Proteste gegen kulturelle Sparpläne der Stadt Karlsruhe
In Karlsruhe haben Kulturschaffende gegen die Sparpläne der Stadt protestiert. Der Protest wurde von der "Aktion Kollektiv Theatral" (AKT) angeführt.
Codex flores
Bilanz des Richard-Strauss-Festival 2016
In 20 Veranstaltungen an sieben Festivaltagen hat das Richard-Strauss-Festival 2016 in Garmisch-Partenkirchen rund 5500 Eintritte gezählt. Die Auslastung lag mit 70 Prozent höher als im Vorjahr.
Salzburger Nachrichten
Klavier-Konzert in der Arktis: Greenpeace fordert Schutzgebiet
In Teneriffa startet am Montag eine OSPAR-Meeresschutz-Konferenz. Zu diesem Anlass veranstaltete Greenpeace mit dem italienischen Pianisten und Komponisten Ludovico Einaudi ein Klavierkonzert in der Arktis.
Twitter
Sony Music South @SonyMusicSouth Happy #WorldMusicDay to all the music lovers around the world!
Top Classical News @topcmnews Insights: In Conversation with Janet Baker and Joyce DiDonato http://bit.ly/28LCvr6  #opera #ballet
Classical Music @ClassicalMusic_ Take a bow: @TobyD http://ow.ly/6Xyi3015MXt  eller previews the best music festivals with strings at their heart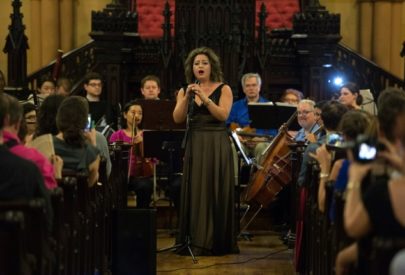 Photograph: Don Emmert (AFP)