In today's news, Archie Roach discusses the healing powers of music, and in May the London Philharmonic Orchestra will perform as guests in Dresden. Berlioz's 'Symphonie Fantastique' proves itself to be a piece of classical music that makes you scream at your own funeral, and Performing Arts Union Equity calls on secretary to intervene on massive art cuts in Bath, England.
The Guardian
Arnold Schoenberg: Do not approach with caution
Schoenberg's music is too often considered intimidating and inaccessible. On the contrary, argues pianist Pina Napolitano, who finds in it beauty and passion. All you need is an open mind.
Archie Roach on the healing power of song: 'Music was great therapy for me'
In the lead-up to his Womadelaide appearance, the elder statesman of Indigenous music reflects on 27 years of songwriting and activism.
Classical Music Magazine
Equity calls on culture secretary to intervene in arts cuts
Performing Arts Union Equity has called on culture secretary Karen Bradley to 'urgently intervene' following 100% arts cuts in Bath and North East Somerset.
Haaretz
A Piece of Classical Music That Makes You Scream at Your Own Funeral
Besides the musical experience it offers, Berlioz's 'Symphonie Fantastique' is also a type of soap opera. A new recording adds an intriguing interpretation to the work's many performances.
Pizzicato
Boston Symphony Plans Extension In Tanglewood
Tanglewood, the music center in the Berkshire Hills of western Massachusetts, summer home of the Boston Symphony Orchestra since 1937, will undergo a $30 million extension. The new four-building complex is designed to support the performance and rehearsal activities of the Tanglewood Music Center, the BSO's Summer Music Academy.
Concerti
Paradiesischer Sound aus London
Mit dem London Philharmonic Orchestra ist erstmals einer der großen englischen Klangkörper Orchestra in Residence in Dresden
Neue Musikzeitung
Die Zerstückelung liegt in der Autonomie des Hörers
Ein Gespräch mit Johannes Bultmann, Künstlerischer Gesamtleiter von SWR Classic
The New York Times
Hear How 'Moonlight' Got Its Sound: Violins, Chopped and Screwed
Chamber music might not seem like an obvious candidate to be "chopped and screwed": remixed and slowed down in the style pioneered by DJ Screw when he transformed Houston's hip-hop scene a generation ago
NPR Music
Beloved Conductor Of The Minnesota Orchestra, Stanislaw Skrowaczewski, Dies
The Polish-born conductor and composer Stanislaw Skrowaczewski, who led the Minnesota Orchestra for nearly two decades and worked with that symphony for well over 50 years in total, died Tuesday at age 93
Twitter
Classical Music News‏ @CIassicalMusic Estonia to provide a musical instrument for every child  http://dlvr.it/NRQxcn  #ClassicalMusic pic.twitter.com/PKdw2qMSys
Music History ‏@today_classical #Today in 1881 FP of #Bruch's Scottish Fantasy Op. 46, Joseph Joachim soloist in Liverpool. #MusicHistory #classicalmusic pic.twitter.com/Oq6mIKOoLZ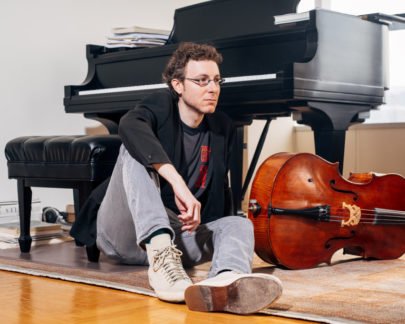 Image: The New York Times