Classical News
In today's news, legendary Glastonbury festival starts today and pays tribute to David Bowie with its first classical headline act & studies reveal that Mozart's music lowers blood pressure even more than silence does. Also, Opera North director warns of isolationism from Brexit vote & Experiments in Opera puts opera on your mobile.
The Guardian
Glastonbury 2016: 'Let's open the biggest party on the planet!'
Wheelbarrows, carts and trolleys in tow, the bravest of the brave queued hours in the mud and rain for festival gates to swing open – a report from the frontlines.
The Times
Glastonbury pays tribute to Bowie with first classical headline act
A tribute to David Bowie will be paid at Glastonbury, with the festival's first classical music headline act. Philip Glass's Heroes Symphony, composed in 1996 as an homage to Heroes, Bowie's 1977 album, will be performed around midnight on Saturday as part of tributes to people who have died this year, including the MP Jo Cox.
Daily Mail
Why Mozart beats Abba when it comes to matters of the heart: Classical music found to 'significantly lower blood pressure'
The music of Mozart and Strauss has been found to significantly lowered blood pressure and heart rates. Researchers looking at the effects of classical music found the two composers were far more effective than listening to Abba, or silence.
The Yorkshire Post
Opera North director warns of isolationism from Brexit vote
Membership of the European Union has played a huge role in enriching Yorkshire's cultural scene, according to one of the region's most senior arts figures.
The New Yorker
Video operas you can watch on your phone
Making video operas you could watch on your phone occurred to Jason Cady, Aaron Siegel, and Matthew Welch a few years ago in a bar in Brooklyn, at a meeting of Experiments in Opera, the company they began in 2010. Cady, Siegel, and Welch are composers.
Classical Music Magazine
HCMF announces two-day festival in Philadelphia
The Huddersfield Contemporary Music Festival is joining forces with Ars Nova Workshop to present a two-day contemporary music festival in Philadelphia.
The Telegraph
The women who invented electro: inside the BBC Radiophonic Workshop
For decades women were systematically sidelined at the BBC. The female voice was thought to lack the necessary gravitas for newsreading – being a discreet and efficient PA to a busy male director or producer was the best that could be hoped for.
pizzicato
Live Football With Orchestral Accompaniment
On the occasion of tonight's football match Croatia-Spain the Philharmonie in Paris invites to a concert with the Symphony Orchestra of the Regional Conservatory of Paris.
Musik heute
Musiker Rondeau erhält "Förderpreis Deutschlandfunk"
Der französische Musiker Jean Rondeau wird mit dem diesjährigen "Förderpreis Deutschlandfunk" für hochbegabte Nachwuchskünstler ausgezeichnet.
BR KLASSIK
Vogelkonzert bei Sonnenaufgang
Das einst von Benjamin Britten gegründete Festival in der ostenglischen Küstenstadt Aldeburgh pflegt – neben Aufführungen des Standardrepertoires auf höchstem Niveau – stets auch das Besondere. Einen der Höhepunkte in diesem Jahr bildet Olivier Messiaens "Catalogue d'Oiseaux", gespielt von Pianist und Festivalleiter Pierre-Laurent Aimard.
klassik.com
Bach-Medaille 2016 an Peter Kooij verliehen
Der niederländische Bassist Peter Kooij ist mit der Bach-Medaille der Stadt Leipzig ausgezeichnet worden.
Twitter
Evening Standard @standardnews '11-hour' traffic jams to get into Glastonbury http://bit.ly/28NHAB7 
Royal NSinfonia @RNSinfonia A few final ticket packages for @Opera_North's Ring Cycle have been released! Get in quick to secure yours now! http://sagegateshead.com/event/opera-north-ring-cycle-2016-package-booking/ …
Top Classical News @topcmnews Brahms and Bruce – music for clarinet and string quartet http://bit.ly/28VfYXH  #ClassicalMusic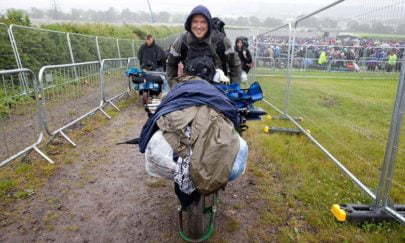 Photograph: Alicia Canter for the Guardian