In today's news: Homophobia in Hungary leads Hungarian National Opera to cancel Billy Elliot shows. World Choir Games to be held in Belgium in 2020. Royal Opera House warns politicians to act on freedom of movement following Brexit. UK Music urges British MEPs to back copyright reform. BBC Proms to hold free event outside of Royal Albert Hall.
The Irish News
Pizzicato
11th World Choir Games 2020 to be held in Flanders
The region of Flanders in Belgium, with the cities Antwerp and Ghent, will host the 11th World Choir Games. The event, which is also considered the 'Olympics of Choral Music' will take place from July 5-15, 2020 and attract thousands of singers from Europe and all over the world.
klassik.com
Fritz-Gerber-Awards an Nachwuchsmusiker vergeben
Die Fritz-Gerber-Stiftung zeichnet in diesem Jahr den Geiger Alexandre Guy, die Saxophonistin Sara Zazo Romero und den Schlagzeuger Thomas Soldati mit dem stiftungseigenen Award aus.
Der Tagesspiegel
Salonkonzert in der Truman-Villa: Das "Quatuor Bestaendig" spielt im Rahmen der Musikfestspiele Potsdam Sanssouci Werke jüdischer Komponisten.
Musik Heute
Frischer Wind beim Richard-Strauss-Festival
Alexander Liebreich ist ein Mann klarer Worte. "Nein, in diesem Saal wird kein Konzert stattfinden. Das ist ein Unort." Der Dirigent und neue Intendant des am Freitag beginnenden Richard-Strauss-Festivals in Garmisch-Partenkirchen meint den reichlich ungemütlichen Werdenfels-Saal im Kongresszentrum der Olympiastadt.
Twitter
"Mein wunderbares Orchester und mein wundervolles Berliner Publikum, Sie sind tief in meinem Herzen gebunden. Danke für alles."
Sir Simon Rattle #GoodbyeSirSimon
Read more @ https://t.co/7ghRyh4Hwi pic.twitter.com/wyFDtsg1wd

— Berlin Philharmonic (@BerlinPhil) June 21, 2018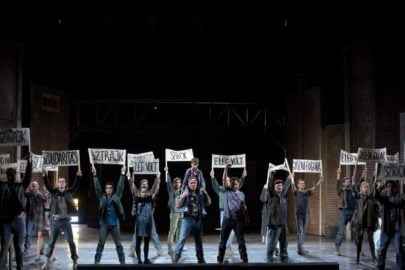 Hungarian National Opera's production of Billy Elliot. Photo © Attila Nagy, Zsófia Pályi, Péter Rákossy