In today's classical news, composer Max Richter calls for a greater appreciation of Britain's classical music heritage.  Philip Glass, soon to turn 80, discusses his career and his relationship with minimalism.  Design Week explores the story behind the London Symphony Orchestra's new identity, and London-based start-up, Jukedeck, explains how it composes music without a composer, using artificial intelligence. In Germany the Elbphilharmonie's soundproofing is put to the test by German rock band Einstürzende Neubauten.
The Guardian
Britain must embrace its classical heritage
Max Richter, a leading British composer whose work is used on stage and screen, says UK audiences don't get the credit for having broad tastes.
'My problem is people don't believe I write symphonies.' About to turn 80, the composer talks about his slow, taxi-driving road to success, and why he is anything but a minimalist…
Design Week
The identity for the Orchestra's 2017/18 season is based on its original conductor logo, also designed by the consultancy, and features a series of animated films by Tobias Gremmler.
The Telegraph
Musicians make the safest drivers
Musicians may make the safest drivers, a new study suggests, after researchers found that people who play an instrument have faster reaction times.
New York Times
Jukedeck – at the cutting edge?
Jukedeck is one of a growing number of companies using artificial intelligence to compose music. Their computers tap tools like artificial neural networks, modeled on the brain, that allow the machines to learn by doing, rather as a child does. So far, at least, these businesses do not seem to be causing much anxiety among musicians.
Der Tagesspiegel
Barenboims Botschaft an New York
Die Berliner Staatskapelle spielt in der Carnegie Hall den ersten kompletten Zyklus aller nummerierten Sinfonien Anton Bruckners – und Maestro Barenboim spricht eine Warnung aus
Krieg gegen die Kunst – Trump droht mit Kürzungen bei der Kulturförderung
Der neue US-Präsident könnte die beiden staatlichen Fördereinrichtungen für Kultur NEA und NEH abschaffen
Im Herbst übernimmt Simon Rattle das London Symphony Orchestra. Jetzt verriet der Dirigent seine wichtigsten Pläne für die Zukunft. 
Spiegel
Einstürzende Neubauten in der Elbphilharmonie – auch Tinnitus klingt super
Es wurde gelärmt – aber sie steht noch: Zur Eröffnung des Pop-Programms trat die Experimental-Rockband Einstürzende Neubauten in der Hamburger Elbphilharmonie auf. Der Höhepunkt: Das erotische Knistern einer Zigarette.
Süddeutsche Zeitung
Moritz Eggerts Oper "Freax" erhält nun fast zehn Jahre nach dem ersten gescheiterten Versuch ihre aufregende szenische Uraufführung in Regenburg
Twitter
Music History @today_classical #Today in 1981 Death of American #composer Samuel #Barber #MusicHistory #classicalmusic
Classical Music News @classicalmusic Facing the music: Benjamin Grosvenor http://dlvr.it/NB03y7  #ClassicalMusic
Theater Regensburg @theaterRGNSBRG »Die Würde der anderen« – @SZ_Bayern über #Freax am @theaterRGNSBRG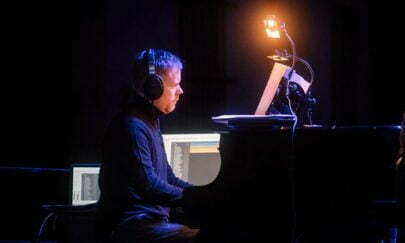 Photograph: Stefan Hoederath/Redferns