Classical News
In today's news, Mark Wigglesworth resigns as ENO's music director, Timothy Ridout wins 2016 Lionel Tertis International Viola Competition, David Bowie mural in Brixton, London to be listed, the impact of music on early childhood development and more…
BBC Music Magazine
Mark Wigglesworth resigns as music director of English National Opera
English National Opera has revealed that Mark Wigglesworth has resigned as music director and will leave at the end of the current season.
The Strad
Timothy Ridout wins 2016 Lionel Tertis International Viola Competition
The young violist receives a cash prize, performance opportunities and a viola bow
BBC News
David Bowie mural in Brixton 'to be listed'
A mural of David Bowie that became a shrine to the musician after his death is to be listed by the council to ensure its long-term protection.
Classicalite
"Why Making Music Matters": Carnegie Hall research paper commissioned on childhood development
As part of a project that is actively trying to understand the relationship between music and early childhood development, Carnegie Hall has commissioned a research paper from Dr. Dennie Palmer Wolf called "Why Making Music Matters."
Los Angeles Times
Musco Center's sound decisions might make it the best opera house in the West
Yasuhisa Toyota has done it again. The Japanese acoustician became an international sensation with the 2003 opening of Walt Disney Concert Hall, his first assignment outside of Asia
International Arts Manager
RNCM to install world's largest BOXY modular studio for its students
Manchester's Royal Northern College of Music (RNCM) has announced plans to transform its former Studio Theatre into a state-of-the-art rehearsal and recording area by fitting the world's largest BOXY modular studio system.
International Arts Manager
Oxford University Press announces new head of repertoire promotion
OUP has announced the appointment of Jenny Wegg to the position of Head of Repertoire Promotion in its music department. Wegg was previously senior promotion manager at Music Sales, where she worked for nearly seven years until summer 2015, managing a roster of composers, including Peter Maxwell Davies, John Tavener and Tarik O'Regan.
Die Zeit
München kriegt jetzt einen, Paris und Bochum haben welche: Diese Häuser sollte man sich leisten, auch an ungewöhnlichen Orten
NMZ
Reformation in Mecklenburg kommt als Oper auf die Bühne
Die Geschichte der Reformation in Mecklenburg kommt als Oper auf die Bühne: Mehr als 50 Mitwirkende der Reformationsoper «Ritter, Tod und Teufel» haben sich am Wochenende erstmals in Schönberg getroffen
Klassik.com
Beethoven-Haus erwirbt Brief des Komponisten
Das Bonner Beethoven-Haus hat einen Brief aus der Feder des damals 43-jährigen Komponisten erwerben können
Twitter
English National Opera @E_N_O: ICYMI – we're now on #snapchat! Be one of our first Snapchat friends. Our username is enopera.
Royal Music College @RCMLondon: We welcome back the outstanding @sacconiquartet for music by @SteveReich, #Elgar & #Mozart on 14 April – book now: http://bit.ly/1PbAIEM 
BBC Music Magazine @Music Magazine: ENO misery continues. Now Mark Wigglesworth has resigned as music director: http://www.classical-music.com/news/mark-wigglesworth-resigns-music-director-english-national-opera …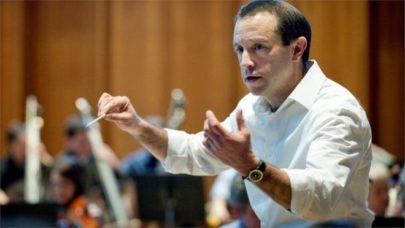 Mark Wigglesworth became Music Director at English National Opera in 2015. Photograph: Sim Canetty-Clarke