On Sunday 28 October, John Suchet broadcasts a special two hour show dedicated to one of the most recognisable and respected conductors in the world, Sir Simon Rattle.
Slipped Disc
Video just in: How John Williams composed the theme for ET
Ahead of the Blue-Ray release of Stephen Spielberg's E. T., video has been unearthed of the director and composer working together on the key musical motif for the alien character.
Very good news: Amsterdam restores music lessons to first-year schoolrooms
After a depressing drift towards cultural derelicition, the city of Amsterdam is reversing policy and bringing back music lessons for children in their first year at school.
More opera costumes are coming up for sale… somewhere near you
Scottish Opera is having a clearout auction of old frocks and props.
Deceptive Cadence, NPR
'Nixon In China': An American Opera Inches Toward Classic At 25
Twenty-five years ago today, Houston Grand Opera mounted the world premiere of Nixon in China, the first opera by a young composer named John Adams.
Gramophone Blog
Star Tribune (found on Arts Journals)
Music in midst of contract dispute
Locked-out orchestra musicians took their appeal to a sold-out hall.
The Australian
Classical music's cultural cringe
PIANIST Michael Kieran Harvey has fired a staccato attack on Australian music organisations, with symphony orchestras, opera companies, broadcasters, and competitions among those in his sights.
Limelight
Israeli & Palestinian say harmony = two pianos + two like minds
The young pianists in Duo Amal were brought together by music to spread a message of hope.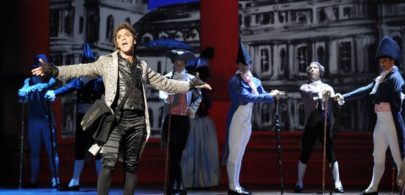 Classic FM