Classical News
Today's news, congratulations to Sinfonia Viva with receiving Arts Council England's grant. The 4th Temple Winter Festival will take place from 12 to 19 December 2016. Also, The Formosa Quartet will perform live on Classical 101 radio, on Friday at 11 a.m. in Columbus time.
Classical Music Magazine
Sinfonia Viva receives Arts Council grant
Sinfonia Viva has received £159,525 through Arts Council England's Strategic Touring programme. According to the Arts Council, the ensemble will use the grant 'to transform its inflatable stage into a modern day musical cabinet of curiosity', touring it to towns and cities where there are few traditional concert venues and offering people of all ages a mix of classical concerts and workshops.
St Edward's Singers will celebrate the Queen's 90th birthday with a performance on 16 October. The choir will be accompanied by the Wykeham Sinfonia, both underthe baton of Jonathan Venner.
The fourth Temple Winter Festival will take place 12-19 December 2016. This year's festival comprises seven concerts, of which the first six will take place in Temple Church and the last in Middle Temple Hall. The event will launch with a performance from Temple Church Choir and Temple Singers to mark the 90th birthday of the Queen and the 400th anniversary of Shakespeare's death with a programme of Bernstein, Vaughan Williams, Britten and Walton.
WOSU Radio
East Meets West: The Formosa Quartet Performs Live on Classical 101 Friday at 11 a.m.
The Formosa Quartet previews "From Hungary to Taiwan" live on Classical 101 Friday at 11 a.m. They'll give us a preview of "From Hungary to Taiwan," an innovative program of new and traditional works by and inspired by Hungarian and Taiwanese composers that the Formosa Quartet will perform in Columbus Saturday, 8:00 p.m, at Columbus' Southern Theatre on the Chamber Music Columbus series.
Collegian
DUO 1804 kicks off the UCA's Fall Classical Convergence Series
Tuesday, September 20, marked the first performance in The Colorado State University School of Music, Theater and Dance's Classical Convergence Concert Series. The series brings in a variety of classical music performances, including solo artists and ensembles, in order to hone in on every aspect of the genre of classical music.
The Colby Echo
Harlem String Quartet Adds Pizazz to Classical Concert
This weekend, the Colby Music Department kicked off their fall season with a concert by the Harlem String Quartet, who played a mélange of classical and modern works in Lorimer Chapel on Saturday evening. This Grammy Award-winning music group boasts an impressive resume that includes a performance at the White House, international tours, and collaborations with such artists as Itzhak Perlman, Paquito D'Rivera, and the jazz duo Chick Corea and Gary Burton.
Evening Telegraph
Classical Twist for Still as show returns after nine years
Hit comedy Still Game is taking a classical twist with the famous BBC Scottish Symphony Orchestra recording a new version of its theme tune. The sitcom is returning to TV in October for the first series in nine years with the original cast in their roles.
Arts Professional
Artists and other self-employed arts professionals are missing out by failing to take advantage of the tax rules designed to leave more money in their pockets. Alistair Bambridge explores the possibilities.
Le Figaro
Visite en avant-première de la nouvelle salle Pleyel
Fermé en décembre 2014, Pleyel rouvre en grande pompe ses portes vendredi 23 septembre avec un concert de Benjamin Biolay.
nmz
Musik verfolgter Komponisten bei Festival in Schwerin
Schwerin bietet seit Donnerstag mit dem 9. Internationalen Festival Verfemte Musik ein Podium für Musik, deren Komponisten von den Nazis verfolgt und die in der Folge oft vergessen wurden.
Musik heute
Markus Stenz vom Seoul Philharmonic verpflichtet
Der deutsche Dirigent Markus Stenz wird Conductor in Residence beim Seoul Philharmonic Orchestra. Als Erster Gastdirigent wurde der Schweizer Thierry Fischer verpflichtet, wie das Ensemble am Donnerstag mitteilte.
Klassik heute
Internationale Meisterklasse für Chordirigieren in Berlin
Vom 24. bis 30. September richtet der Rundfunkchor Berlin erneut die Internationale Meisterklasse für Chordirigieren aus – Chefdirigent Gijs Leenaars und Ehrendirigent Simon Halsey arbeiten eine Woche lang mit acht vielversprechenden ChordirigentInnen aus sechs Ländern.
Twitter
BBC Music Magazine @MusicMagazine 15 of the daftest pieces of classical music ever written. http://buff.ly/2cQ3x25 
Classical Music @ClassicalMusic_ American composer Julia Wolfe has been named as one of the 2016 @macfound fellows
Classical Music @ClassicalMusic_ Find out more about Andrey Lebedev & Samson Tsoy, who will be performing in the next @RhinegoldLive recital! http://ow.ly/9qkc304sOc1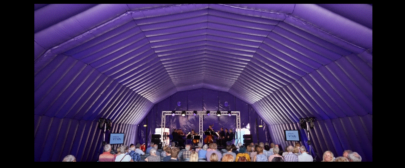 Photograph: Classical Music Magazine(Rhinegold)/ Sinfonia Viva