In today's news: Anne-Sophie Mutter honoured by Bavarian State Foundation prize, ECM Records commences streaming, The Sixteen to present Marco Galvani premiere, Conductor Justus Frantz cut his fingertip, Diapason d'or Award for 2017 announced.
Royal Society of Arts
Bringing Classical Music to a New Audience
In 2017, you still have to look very hard to find any diversity within the big companies in almost every industry.
Independent
Egyptian singer detained for four days for eating banana in music video
Pop star Shyma could face three years in prison for 'inciting debauchery' in racy video
Music Teacher
National Open Youth Orchestra announces new partners
The Barbican and the Guildhall School of Music & Drama are the new official partners for the National Open Youth Orchestra (NOYO), the world's first disabled-led national youth orchestra.
Bromsgrove School to open new Performing Arts Centre
Bromsgrove School is to open the doors to its new Performing Arts Centre this evening (22 November)
Rhinegold Publishing
The Sixteen to present Marco Galvani premiere
The Sixteen and Harry Christophers will present the world premiere performances of Marco Galvani's On Christmas Morn as part of Classic FM's 25th anniversary celebrations
Classic FM
Jessica Curry's tips for aspiring composers
Our High Score presenter – and BAFTA Award-winning composer – shares some pieces of advice for young composer
The Strad
Anne-Sophie Mutter honoured by Bavarian State Foundation prize
Violinist recognised for artistic and philanthropic activity by grant-giving body
The New York Times
Dmitri Hvorostovsky, Silver-Maned Baritone From Siberia, Dies at 55
Dmitri Hvorostovsky, the charismatic Siberian baritone who won critical acclaim and devoted fans around the world for his burnished voice, uncanny breath control and rueful expressivity, died on Wednesday in London. He was 55.
Limelight magazine

ECM Records commences streaming
Iconic indepdendent record label ECM Records has announced an expanded partnership with its long-standing distribution partner Universal Music Group (UMG) in order to bring the entire ECM music library to the digital world via streaming.
Welt N24
Dirigent Justus Frantz schneidet sich Fingerkuppe ab
Ob als Dirigent oder als Pianist: Musik ist elementarer Bestandteil des Lebens von Justus Frantz. Doch nun könnte ein Haushaltsunfall die Karriere des Hamburgers beenden.
Concerti

Wo Herkules noch in den Noten steckt
In ein paar Tagen ertönt in ganz Deutschland wieder Bachs Weihnachtsoratorium. Höchste Zeit, dass die concerti-Redaktion das Werk einmal genauer betrachtet
Pizzicato

Josep Pons stays as Music Director of the Liceu until 2022
The Gran Teatre del Liceu in Barelona has extended the contract of its Music Director Josep Pons (*1957).
Musik Heute

Trauer um Bariton Hvorostovsky – Putin: "Sehr schwerer Verlust"
Bei dem weltbekannten Sänger war 2015 ein Gehirntumor festgestellt worden. In der Folge sagte er Opernauftritte und die meisten Konzerte ab.
France musique

Palmarès 2017 des "Diapason d'or" de l'année
Mercredi 22 novembre se déroulait l'édition 2017 des "Diapason d'Or" de l'année, récompensant les meilleurs enregistrements d'opéras, de pièces pour piano, ou encore de musique de chambre, selon le mensuel spécialisé "Diapason".
Le Figaro

Orchestre en fête à la Philharmonie de Paris
La salle accueille la neuvième édition d'Orchestres en fête. Un événement que ne pouvait manquer Julien Clerc, rédacteur en chef du dernier numéro du Figaroscope.
Platea Magazine

La familia del barítono ruso Dmitri Hvorostovsky confirma su fallecimiento
Su última aparición en público tuvo lugar hace unos meses en el Metropolitan de Nueva York, en el marco de una gala lírica.
Twitter
France Musique @francemusique : Palmarès 2017 des "Diapason d'or" de l'année
Bayerischer Rundfunk @BR_Presse : Herzlichen Glückwunsch, Mariss Jansons: Am Freitag bekommt der Chefdirigent des BR-Chores und @BRSO die Goldmedaille der #RoyalPhilharmonicSociety verliehen.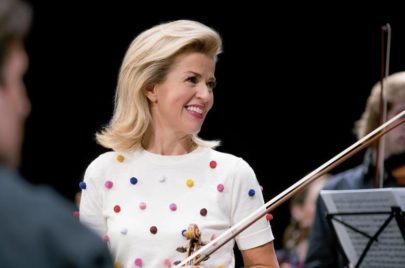 Anne-Sophie Mutter ©Deutsche Grammophon/Harald Hoffmann