In today's news: The Barbican announces its 2018/2019 season, RBC to host new piano competition, ENO to be part of Henley Festival this year, new production of Porgy and Bess will not be performed by an all-black cast, the inaugural International Music Competition Harbin enters final round, Apple Music to launch analytics for artists, conductor Robert Spano to leave ASO after 20 years, what will happen after director Dieter Wedel steps down from theatre festival after sex assault claims, Frankfurt to receive a "Museum of Modern Electronic Music", SPD to chair the committee on Culture and Media of the German Bundestag, big names dominate in the film category of this year's Oscars, Jean-Luc Choplin to oversee artistic direction of the Théâtre Marigny during its reopening after work later this year.
Classical Music
Barbican announces 2018/2019 season
The Barbican will mark the centenary of the end of the World War I by hosting performances of several commemorative new works by British composers.
Royal Birmingham Conservatoire to host new piano competition
The first Birmingham International Piano Chamber Music Competition will take place 20-23 November.
The Telegraph
Rita Ora, Grace Jones, and English National Opera to headline Henley Festival 2018
Henley is the UK's only black-tie boutique festival and will run from 11-15 July.
Opera Now
New Porgy and Bess to break all-black cast directive
A new production of the opera will break the Gershwin estate's stipulation that the piece should only be performed by all-black casts.
The Strad
International Music Competition Harbin in China enters final round 
Four young violinists from China, South Korea, Russia and the US compete for $50,000 first place in first edition of Chinese competition.
Complete Music Update
Apple Music to launch analytics for artists
Apple Music For Artists will provide artists and managers with stats and data to better understand their fans' listening and buying habits.
The New York Times
Robert Spano Will Leave the Atlanta Symphony After 20 Years
The conductor Robert Spano, who made the Atlanta Symphony Orchestra a force to be reckoned with in contemporary American music, announced on Tuesday that he would step down as music director in 2021, after completing his 20th season.
Frankfurter Allgemeine Zeitung
Wie geht es weiter nach Dieter Wedel?
Wie geht es weiter mit dem Festspielen in Bad Hersfeld nach dem Rücktritt von Dieter Wedel, dem Schauspielerinnen sexuelle Belästigung vorgeworfen haben? Ein Nachfolger ist da, doch es gibt offene Fragen.
nmz
Museum für Moderne Elektronische Musik kommt – aber temporär
Nach mehrjährigen Vorbereitungen ist es amtlich: Frankfurt, das sich als Urzelle des Techno-Sounds rühmt, erhält ein «Museum of Modern Electronic Music». Die Stadt stellt für das MOMEM in den kommenden Jahren Räume an der Hauptwache mitten in der Innenstadt zur Verfügung.
Deutscher Bundestag: SPD wird Vorsitz des Kulturausschusses stellen
Der Deutsche Kulturrat, der Spitzenverband der Bundeskulturverbände, ist sehr erleichtert, dass nach einer interfraktionellen Abstimmung der Ausschuss für Kultur und Medien des Deutschen Bundestag weiterhin von einer oder einem Abgeordneten der SPD-Bundestagsfraktion geleitet wird.
BR Klassik
Große Namen dominieren die Kategorie Filmmusik
Am Dienstag sind in Los Angeles die Nominierungen für die Oscars 2018 bekannt gegeben worden. Hans Zimmers Musik zu "Dunkirk" und Alexandre Desplats Musik zu "The Shape of Water" sind auch in der Kategorie für die beste Filmmusik nominiert.
france musique
Jean-Luc Choplin pressenti pour diriger le Théâtre Marigny
Jean-Luc Choplin, qui a quitté au début du mois de janvier le paquebot de la Seine Musicale sur l'Île Seguin, devrait assurer la direction artistique du Théâtre Marigny lors de sa réouverture après travaux à l'automne 2018.
Twitter
Music History @today_classical: #Today in 1906 FP of #Rachmaninov's one-act operas The Miserly Knight and Francesca da Rimini, in Moscow. #MusicHistory #classicalmusic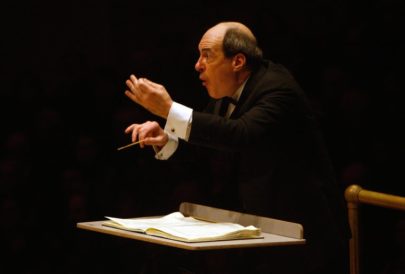 Image: Robert Spano © Ruth Fremson/The New York Times