In today's' news: A new Beethoven Museum in Vienna. After a 2-year hiatus the Orff Festival returns to its home in Andechs. Mariss Jansons is honoured with the gold medal of the London Royal Philharmonic Society. The Salzburg Mozarteum still doesn't have a new director. The Mexican folk singer Lila Downs on cultural roots in Mexico. The Jazz singer John Hendricks has died. A piece on Opera in Oman.
Classical-Music
Conductor Mariss Jansons awarded RPS Gold Medal
The Latvian conductor is the 104th recipient of one of music's most prestigious awards
The Telegraph
Mariss Jansons: 'Women on the podium are not my cup of tea'
Mariss Jansons has all the good qualities you could possibly hope for in a great conductor. Well, almost all. Ivan Hewett meets him
Radio Today
Radio 3 to join up with European stations
BBC Radio 3 teams up with 43 other radio stations in Europe to celebrate the 50th Anniversary of the first concert from Queen Elizabeth Hall.
Petersfield Post
Liss violinist wins prestigious prizes
Sara Deborah Timossi wins both first prize and audience prize at the International Competition for Baroque Violin Premio Bonporti Rovereto 2017 in Italy.
Music Business Worldwide
Warner threatens to leave London HQ
Warner Music UK has said it may leave its Kensington-based HQ if proposals to redevelop a neighbouring building go ahead.
Japan Times
George Avakian, scholar and producer of major jazz recordings dead at 98
The Russian-born scholar and architect of the American music industry produced essential recordings by Louis Armstrong and Miles Davis.
Macau Daily Times
Baroque Music Festival returns to Macau for its third edition
The festival aims to integrate Baroque classical music with Chinese and Western architectural heritage in Macau.
Musik
Beethoven-Museum wird in Wien eröffnet
Das Leben und Werk Ludwig van Beethovens (1770-1827) ist untrennbar mit Wien verbunden.
NMZ
Carl Orff-Festspiele kehren nach Andechs zurück
Das Carl Orff-Fest kehrt im nächsten Jahr ins Kloster Andechs zurück.
Kulturradio vom rbb
Hohe Auszeichnung für Mariss Jansons in London
Der lettische Chefdirigent des Chors und Symphonieorchesters des Bayerischen Rundfunks bekommt die Goldmedaille der Londoner Royal Philharmonic Society.
Der Standard
Rektorenwahl am Mozarteum vergeigt, Uni-Räte zurückgetreten
Nun ist sie erneut schiefgegangen, die Rektorenbestellung an der Salzburger Musikuniversität Mozarteum.
El Mundo
Lila Downs: "En México negamos nuestra raíz indígena"
Es el vivo retrato de la Revolución Mexicana. Su estética, a caballo entre Frida Kahlo y Emiliano Zapata, sus letras y el eco de su voz rebotan contra un mundo cada vez más homogéneo y silenciado.
Le Monde
Jon Hendricks, poète vocaliste du jazz, est mort
Le chanteur, qui a transmué le jazz vocal en virtuosité « bop », s'est éteint le 22 novembre à l'âge de 96 ans.
France musique
Le Sultanat d'Oman, nouveau paradis pour l'opéra
Depuis quelques années, les pays du monde arabe, et plus spécialement de la péninsule arabique, ont inauguré des salles d'opéra.
Twitter
Kulturradio vom rbb @Kulturradio_rbb – Britische Städte kommen nach Brexit nicht mehr als Europäische Kulturhauptstädte infrage.
ClassicalNEXT @ClassicalNEXT – We've opened the registrations for #cnext18! Register here → http://bit.ly/1reN7CQ  & stay tuned for programme announcements.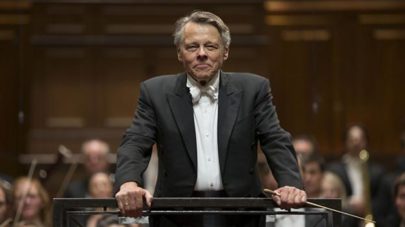 Mariss Jansons / Source: classical-music.com