In today's news, Joshua Bell is teaming up with Sony Playstation to launch a brand new virtual reality music experience, and an interview with German soprano Simone Kermes, and an exhibition on Siegfried Wagner and his personality. Schleswig-Holstein Musik Festival (SHMF) takes place from 1st July to 27th August, Philadelphia Orchestra and Music Director Yannick announce 2017-18 season, and Bobbi McFerren conducts and sings Vivaldi's double cello concerto. One of Britain's foremost orchestras is setting up the Hallé Music Free School, and Spotify begins to produce its own content beginning with three music-themed shows.
The Times
Orchestra's new free school will give pupils a rousing education
One of Britain's foremost orchestras is setting up the Hallé Music Free School, which promises an outstanding music education at a state school.
Music Week
Attitude Is Everything CEO Suzanne Bull appointed Government's sector champion to the music industry
Attitude Is Everything CEO Suzanne Bull has been appointed as sector champion for the music industry to drive forward the Government's ambition to tackle the issues faced by disabled people as consumers.
Classical Music Magazine
Leeds Lieder 2017 to explore 'Songs of Travel'
The festival, which will take place 21-23 April, will open with a recital by baritone Simon Keenlyside and pianist and Festival artistic director Joseph Middleton, featuring Schubert's Schwanengesang, excerpts from Vaughan Williams's Songs of Travel, and songs by Sibelius.
The Guardian
Chaucer, the opera: how to make Middle English sing
Immersing himself in Chaucer's world to write the libretto for the Tale of Januarie, Stephen Plaice found plenty of inspiration in its vivacity and unabashed bawdiness, and a writer who still has plenty to teach us today.
Tech Radar
Spotify enters the realm of original podcasts with three music-based series
It's been a while since Spotify introduced the ability to stream podcasts through its app, but it's now taking the next logical step and producing its own content, with the introduction of three music-themed shows.
USA Today
Der Tagesspiegel
Wer war Siegfried Wagner? Ein Genie im Schatten? Ein politischer Duckmäuser? Das Schwule Museum Berlin begibt sich auf Spurensuche
concerti
In diesem Jahr stellt das Schleswig-Holstein Musik Festival (SHMF) vom 1. Juli bis zum 27. August den israelischen Mandolinenvirtuosen Avi Avital ins Zentrum seines Programms
WQXR Blog
Watch: Bobby McFerrin Conducts — and Sings — Vivaldi's Double Cello Concerto
Bobby McFerrin possesses a malleable, fluid talent that's allowed him to make a statement in a number of diverse musical stylings
boradwayworld.com
Philadelphia Orchestra and Director Yannick Announce 2017-18 Season – Tosca, WEST SIDE STORY and More!
Philadelphia Orchestra Music Director Yannick Nézet-Séguin and President and CEO Allison Vulgamore today released The Philadelphia Orchestra's 2017-18 season.
Twitter
Classical Music News‏ @CIassicalMusic Death of a vital Italian modernist http://dlvr.it/NSgygq  #ClassicalMusic pic.twitter.com/8lsUrEDz4O
Music History ‏@today_classical #Today in 1876 FP of Edvard #Grieg's incidental music for Ibsen's play Peer Gynt. #MusicHistory#classicalmusicpic.twitter.com/O6IEx04CAC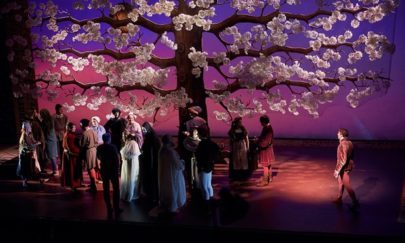 Image: The Guardian