In today's classical news, pop music takes over classical choices on the popular BBC radio programme Desert Island Discs, and the Brook Street Band announce a new festival to take place in Norwich.  Trouble for travelling string players as another instrument is completely destroyed whilst flying, and the Kennedy Center breaks with tradition in announcing its 17/18 season.  After several cancellations, Jonas Kaufmann returns to open the Vienna Opera Ball, and Jaki Liebezeit has sadly passed away aged 78.
The Guardian
Roll over Beethoven: Desert Island Discs stars pick pop over classical
Guests of the BBC radio programme Desert Island Discs are abandoning classical music selections in favour of pop music and power ballads, according to a survey to mark the show's 75th anniversary.
Rhinegold
Brook Street Band announces Handel festival
The Brook Street Band has announced its inaugural Handel festival, timed to coincide with the end of the ensemble's 20th anniversary year. love: Handel will take place 22-23 April 2017 in Norwich, which currently lacks an early music festival.
The Violin Channel
Cello Student Seeking Help After Airline Completely Trashed Her Instrument
A Florida State University music student has set up a Go Fund Me page in an effort to replace her cello – which was destroyed on a recent United Airlines flight.
The Strad
Teenagers break Vienna Symphony viola player's finger at metro station
Michael Buchmann was involved in an altercation with three young men over smoking on Saturday evening.
The Washington Post
Kennedy Center announces notable 2017-2018 classical season
The Kennedy Center broke with its season-announcement tradition by announcing its 2017-2018 classical music season — the National Symphony Orchestra, the Washington National Opera and the Fortas Chamber Music Concerts — on Monday afternoon.
Broadwayworld
NYFOS to Open New York Philharmonic's Tchaikovsky Fest with PYOTR THE GREAT
New York Festival of Song continues its NYFOS Mainstage series at Merkin Concert Hall on Tuesday, January 24, 2017 at 20:00.
Spiegel ONLINE
Er reduzierte sein Schlagzeugspiel, bis aus der Monotonie Groove wurde: Jaki Liebezeit war ein wichtiger Bestandteil der Gruppe Can, die als Krautrockband weltweiten Einfluss hatte. Nun ist er 78-jährig gestorben.
Pizzicato
Jonas Kaufmann singt beim Wiener Opernball
Monatelang hatte Jonas Kaufmann wegen einer Entzündung an den Stimmbändern seine Auftritte absagen müssen. Jetzt braucht er PR.
Musik Heute
Zwei Nachwuchsmusiker gewinnen Mendelssohn-Preis
Die Geigerin Diana Tishchenko und das Trio Marvin haben den Felix Mendelssohn Bartholdy Hochschulwettbewerb 2017 gewonnen.
Klassik.com
Dirigent Peter Ewaldt gestorben
Der Dirigent Peter Ewaldt ist tot. Er starb nach kurzer, schwerer Krankheit im Alter von 64 Jahren.
Le Monde
Dutilleux et son « Double » célébrés dans l'antre de Boulez
L'« année Dutilleux » s'est close samedi 21 janvier à la Philharmonie, à Paris, avec la « Deuxième Symphonie » en transe jazzy.
France musique
Une comédie musicale sur le harcèlement scolaire à l'Opéra Bastille
Du 21 au 28 janvier, une comédie musicale aborde le thème du harcèlement à l'école, avec humour et gravité, à l'Opéra Bastille.
Twitter
Classical Music News @classicalmusic Moving house? Make sure your piano is properly protected http://dlvr.it/NB34Wn  #ClassicalMusic
Classical Music News @classicalmusic A music venue that reflects our diversity http://dlvr.it/NBFv93  #ClassicalMusic
Music History @today_classical #Today in 1705 Birth of Italian #castrato Carlo #Farinelli #MusicHistory #classicalmusic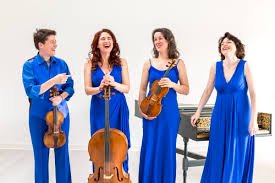 Photograph: The Brook Street Band