In today's news, the BBC is calling for amateur musicians to perform at the Proms, the New York City Opera announces its first full season following its emergence from bankruptcy & Graham Parker announced to become the new president of Universal Classics USA. Also, Spotify surged 80% last year to nearly €2bn and Yamaha offers free Clavinova lessons.
BBC News
Amateur musicians to play Last Night of the Proms
The BBC is calling for amateur musicians to perform Bizet's Toreador song, from Carmen, at the Proms. A "virtual orchestra" will be created to play the piece, conducted by Marin Alsop and supported by musicians from the Royal Academy of Music.
Daily Mail
NYC Opera announces 1st full season after bankruptcy
The revived New York City Opera announced its first full season following its emergence from bankruptcy, planning 28 performances of six works in 2016-17 that include the U.S. debut of Antonio de Literes' "Los Elementos" and area premieres of Peter Eotvos' "Angels in America" and Tobin Stokes' "Fallujah."
WQXR
Graham Parker, WQXR GM, to Head Universal Classics, USA
Tuesday morning, the general manager at WQXR, Graham Parker, announced that after six years at New York Public Radio, he will be stepping down to become the president of Universal Classics, U.S.A. Music.
The Guardian
Spotify revenues surge 80% to more than £1.5bn
Revenues at Spotify, the world's biggest music streaming service, surged 80% last year to nearly €2bn (£1.5bn) but losses widened as it invested heavily amid tough competition from the likes of Apple Music and Tidal.
Classical Music Magazine
Yamaha offers free Clavinova lessons
Yamaha is offering free 45-minute Clavinova lessons throughout Saturdays and Sundays in June. During each one-to-one session, a Yamaha pianist will demonstrate the features of the Clavinova which can help pianists to learn and improve.
The Irish Times
Classical music: Printed programmes are a convention worth keeping
The world of the classical concert is a highly ritualised affair. The dress code for performers is as formal as it is for weddings, although there are, of course, performers who shun it. Austrian pianist Friedrich Gulda took shunning to an extreme when he once appeared on stage nude.
Classicalite
New Book 'Sounds and Sweet Airs' Details Female Composers Consigned to Oblivion
Anna Beer's new book, Sounds and Sweet Airs: The Forgotten Women of Classical Music, highlights overlooked but important female composers of the classical music genre.
The Telegraph
Royal Opera's Oedipe is yet another revived gem to thank Kasper Holten for
Those who deplore the current vogue for shock-horror productions may be rejoicing at the early departure next year of the Royal Opera's Director Kasper Holten, but there are several things to thank him for – notable among them being his commitment to programming fully staged performances of significant but unjustly neglected repertory of the 20th century.
Musik heute
Berliner Philharmoniker und Simon Rattle kämpfen für EU-Jugendorchester
Das Orchester in Berlin und sein Chefdirigent in München – gleich doppelt haben die Berliner Philharmoniker am Dienstag gegen eine Auflösung des European Union Youth Orchestra (EUYO) protestiert.
Klassikinfo.de
Große Abwanderung beim Bayerischen Staatsballett
Nach dem Ende der Spielzeit 2015/2016 wird Ivan Liška nach 18 Jahren sein Amt als Direktor des Bayerischen Staatsballetts an Igor Zelensky übergeben. Mit Liška werden sich einige bekannte Gesichter von der Bühne des Nationaltheaters und vom Münchner Publikum verabschieden.
Klassik.com
Nordrhein-Westfalen fördert Musikhochschule Detmold mit 14 Millionen Euro
Das Land Nordrhein-Westfalen fördert die Hochschule für Musik Detmold in den nächsten sieben Jahren mit rund 14 Millionen Euro.
Twitter
Top Classical News @topcmnews Bad news for Boston criticism http://bit.ly/1Xv83TB  #ClassicalMusic
Classic FM @ClassicFM The 12 cellists of the Berlin Philharmonic are playing tangos on our Album of the Week: http://classfm.co/JohnS 
BR_Klassik @BR_KLASSIK 25. Mai 1887: Die Opéra-Comique in Paris steht in Flammen #washeutegeschah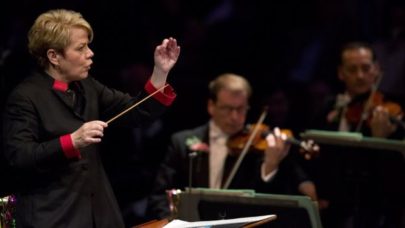 Photograph: AFP / Getty Images