In today's news: BASCA announces election results. Nadine Sierra explores American opera and song in new album. Musicologist Robert Pascall has passed away. Cambridge Live has announced details of its 29th orchestral series. Ricardo Muti stops Chicago Symphony Orchestra mid-performance after cough from audience member. Richard Strauss Orchestra Academy cancelled this year. Bach reinvented: the Bach music festival with musical saws and nyckelharpa. Music Festival Krzyżowa – how a music festival transformed a sleepy village in Poland.
Rhinegold
Nadine Sierra to release album with Deutsche Grammophon and Decca Gold
Soprano Nadine Sierra has made her first album for Deutsche Grammophon and Decca Gold, having signed a contract with the labels last year.
Basca
Board and Committee Election Results Announced
Over the past few weeks, Professional and Standard members have been voting for BASCA members to represent them on the BASCA Board, and our Classical, Songwriter and Jazz Committees.
Rhinegold
Cambridge Orchestral Concert Series 2018-19 announced
Cambridge Live has announced details of its 29th orchestral series at the Corn Exchange.
The Guardian
Robert Pascall, the musicologist and Brahms scholar, has died aged 74. His dedication to Brahms (and slight resemblance to him) was lifelong, from his DPhil at Oxford to the crowning glory of his career: new critical editions of the Brahms Symphonies for the complete edition of the composer's works published between 1996 and 2012.
The Herald
Obituary: Joyce Blackham, opera singer
Joyce Blackham, who has died aged 84, was a mezzo-soprano who was renowned for her singing of the fiery cigarette girl in Bizet's Carmen. At the beginning of her career she sang it with Sadler's Wells Opera (SWO) and joined another young singer, Placido Domingo, in regional opera houses in America and at the New York City Opera.
Limelight
Riccardo Muti stops mid-performance after audience member coughs
The famously stern maestro brought the Chicago Symphony Orchestra to a halt after noise from the audience interrupted a quiet moment in the music.
The Violin Channel
Prizes Awarded at United States' 2018 Washington International String Competition
Violinist Youjin Lee, violist Muriel Garnet Razavi and cellist Tony Rymer have been awarded 1st prizes at the 2018 Washington International String Competition
klassik.com
Richard-Strauss Orchesterakademie muss abgesagt werden
Die "Internationale Richard-Strauss-Orchesterakademie", die als eine Säule der Neuausrichtung des Richard-Strauss-Festivals junge Musiker an das Werk von Richard Strauss heranführen sollte, kann in diesem Jahr nicht stattfinden.
NMZ
"Stelzenfestspiele": Bach mit Obertongesang und Schlüsselfidel
Johann Sebastian Bach bleibt eine unerschöpfliche Inspirationsquelle für Musiker: Bei den "Stelzenfestspielen bei Reuth" im Dreiländereck von Bayern, Sachsen und Thüringen wurden am Samstag Werke des Komponisten in ungewöhnlicher Ausführung geboten – verjazzt oder klassisch, mit Obertongesang und auf Instrumenten wie Schlüsselfidel und Singender Säge.
Concerti
Erst 2015 wurde das Festival Krzyżowa-Music gegründet und hat schon jetzt ein schlesisches 200-Seelen-Dorf zu einem kulturellen Hotspot gemacht.
Twitter
The view this morning – working with @BrittenSinfonia in the Chapel as it becomes, briefly, one of the world's most beautiful recording studios. pic.twitter.com/WsnPtGBrln

— King's College Choir (@ChoirOfKingsCam) June 26, 2018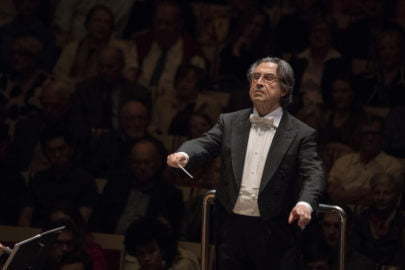 Riccardo Muti conducting the Australian World Orchestra. Photo © David Collins