Classical News
In today's classical news round-up, to celebrate its 70-year history, BBC Radio 3 is to broadcast music for 12 hours without presenters talking on air. Scottish Chamber Orchestra appoints Benjamin Marquise Gilmore as its new leader, who will share joint responsibility with Stephanie Gonley. Also, read about how Kenya's Art of Music Foundation and classical music is changing and enriching Kenyan children's lives.
Classical Music Magazine
Radio 3 to celebrate 70 years with 12 hour broadcast
Radio 3 will be broadcasting music for 12 hours continuously on 30 October.
Scottish Chamber Orchestra announces new leader
The Scottish Chamber Orchestra (SCO) has appointed Benjamin Marquise Gilmore as its new leader. He will share the role with Stephanie Gonley.
The New York Times
A Classical Music Lover Changes Kenyan Children's Lives
Created in 2008, Ghetto Classics' music education program, which benefits youth in the slum of Korogocho and other poor areas, is one of the project by Kenya's Art of Music Foundation, and was set up to enrich the lives of young Kenyans through music.
Early Music Today Magazine
York Early Music Christmas Festival 2016
The York Early Music Christmas Festival 2016, which takes place 8-15 December, comprises ten concerts over eight days.
Classic FM
This musician had the *perfect* response to potential client who was offering NO payment for a concert
Musicians are often offered a bum deal when dealing with freelance work, but this member of a string quartet has come up with a zinger of a reply
NRK
Operadirektøren: – Det føles riktig for meg å slutte
Direktør ved den Norske Opera og Ballett, Nils Are Karstad Lysø, slutter i jobben i løpet av sommeren 2017. – Overraskende og uheldig, sier NRKs kulturkommentator.
Aftenposten
Jeg vil løfte operaorkesteret ut av anonymiteten
Han hadde drømmejobben som solist i et av verdens beste orkestre. Men Karl-Heinz Steffens vil heller være sjef for operaorkesteret i Oslo.
Die Zeit
Auswärtiges Amt stoppt Konzert der Dresdner Sinfoniker
Erstmals sollte in der Türkei ein Stück über den armenischen Völkermord gezeigt werden, und zwar im deutschen Generalkonsulat. Ohne Angabe von Gründen wurde nun abgesagt.
nmz
Schulen können «Vivaldi-Experiment« im Unterricht einsetzen
Für überraschend ausfallende Musikstunden stellt der WDR den Schulen ein Alternativprogramm zur Verfügung: Eine DVD mit dem Mitschnitt des «Vivaldi-Experiments», das eine überraschende Mischung aus Klassik und Rap bietet.
Musik heute
Katharina Wagner mit Europa-Medaille ausgezeichnet
Die Leiterin der Bayreuther Festspiele, Katharina Wagner, hat am Dienstag die Europa-Medaille des Freistaats Bayern erhalten. Die Opernregisseurin wurde für ihre Leistungen für das Festival geehrt, das ein "Musik und Konzertstandort von Weltrang" sei.
Twitter
Music History @today_classical #Today in 1685 Birth of Italian #composer and harpsichordist Domenico #SCARLATTI 🎂 #MusicHistory #classicalmusic
Classical Music @ClassicalMusic_ Pianist Dylan Perez wins the Gerald Moore Award 2016 https://t.co/L4p290YOFw
The Royal Opera @TheRoyalOpera 5 things you need to know about Shostakovich's #ROHnose: http://www.roh.org.uk/news/opera-essentials-shostakovichs-the-nose …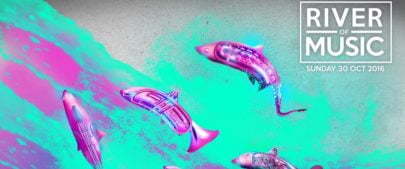 Photo: Rhinegold Publishing/ BBC Radio 3