Gramophone
Opera Rara records Donizetti's opera Belisario
'One of the most significant' Donizetti operas yet to be widely known, says conductor Sir Mark Elder
Classic FM
Laurence Llewelyn-Bowen becomes Children & the Arts ambassador
Laurence Llewelyn-Bowen speaks passionately about his new role as ambassador "Children & the Arts is the only charity I know that reaches out and leads children on a unique journey into the arts that will inspire, thrill and transform their lives, and I am in no doubt will sow the seeds of lifelong passions."
Arts & Kids Week celebrates 10 year partnership
Jeremy Newton, Chief Executive of The Prince's Foundation for Children & the Arts spoke to Classic FM's Lucy Coward about how Arts & Kids Week began and how it's developed over ten years.
Mozart's piano set for Vienna return
The piano used by Wolfgang Amadeus Mozart in his later years is to be returned to his former home in Vienna for the first time since his death.
Classical Music Magazine
Derry-Londonderry City of Culture 2013 Festival programme announced
Simultaneous performances in the Guildhalls of London and Derry-Londonderry of a new cantata by composer Mark-Anthony Turnage and poet Paul Muldoon will be just one musical highlight of Derry-Londonderry's year as the first UK City of Culture.
Slipped Disc
First picture: Israel Philharmonic is picketed outside Carnegie Hall
About 60 demonstrators turned out last night to protest against the Israel Philharmonic Orchestra's concert at Carnegie Hall.
Affronted French heirs seek to stop Munich revival of Poulenc opera, demanding more dead nuns
The heirs of Francis Poulenc and his librettist Georges Bernanos have filed an injunction to prevent the Bavarian State Opera in Munich from reviving Dmitri Tcherniakov's staging of Dialogues des Carmelites.
Limelight
Synaesthesia: is it like being on psychotropic drugs?
MONA's true colours shine through in a festival exploring this strange musical phenomenon.
Evening Standard
Bourne supremacy: Acclaimed choreographer transforms Sleeping Beauty into gothic teen romance
Matthew Bourne is known for his radical reworking of classic ballets and now he's turning Sleeping Beauty into a 21st-century gothic romance. It's the Twilight series meets Tchaikovsky, he tells Liz Hoggard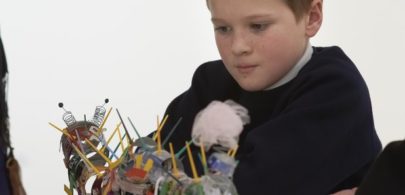 Classic FM