In today's news, Birmingham Conservatoire is granted Royal title, and its Principal Julian Lloyd Webber criticises the government for not valuing music. New musical for children called "Wemmicks", Sachsen-Anhalt celebrates "Day of Singing" on September 29, and the Metropolitan Opera begins its new season.
Music Teacher
Birmingham Conservatoire granted Royal title
Birmingham Conservatoire's new £57m home opens its doors to students today (25 September) with the news that the institution has been granted a royal title by Her Majesty the Queen.
Choir and Organ
New resources for A Choir in Every Care Home
Live Music Now has relaunched A Choir in Every Care Home with a new set of free resources. Videos and tool-kits to help more care homes and musicians to perform more, higher quality singing are available online.
The Guardian
Playlist of the Lambs: psychopaths prefer rap over classical music, study shows
Researchers studying people's musical preferences have found that psychopaths prefer listening to rap music and, contrary to the movie trope epitomised by Anthony Hopkins's Hannibal Lecter in The Silence of the Lambs, they are no fonder of classical music than anyone else.
The New York Times
'Pretty Woman' as a Broadway Musical? Get Ready
"Pretty Woman," the film that made a star of Julia Roberts, is being adapted into a stage musical, with songs co-written by Bryan Adams, and is aiming to open on Broadway next fall after a spring run in Chicago.
The Telegraph
Julian Lloyd Webber interview: 'Why don't the government value music?'
The cellist tells Ivan Hewett about his fight for music in schools, being confused with his brother Andrew, and the injury that ended his performing career.
The Strad
Flying high: an El Sistema inspired music education programme in China
Inspired by Venezuela's El Sistema, China's Wings of Music aims to bring dignity and self-belief to some of the country's most deprived children.
Pizzicato
Small Greek island to host first Young Artist Opera and Oratorio Competition
The first-ever annual Young Artist Opera and Oratorio Competition will take place in July 2018 at the Apollo Theatre on the Island of Syros, Greece.
Berliner Morgenpost
Kinder-Musical erzählt Geschichte der "Wemmicks"
Der Filmmusik-Student Ephraim Peise bringt seine Abschlussarbeit auf die Bühne. Finanziert hat er das Projekt mit privaten Geldgebern.
concerti
Am 29. September, dem Tag des Singens, feiern Kinder in ganz Sachsen-Anhalt das gemeinsame Musizieren. Für viele wird es ein Tag voller neuer klanglicher Eindrücke
Musik Heute
New Yorker "Met" eröffnet Saison mit "Norma"
Mit Vincenzo Bellinis "Norma" ist die New Yorker Metropolitan Opera am Montagabend (Ortszeit) in die neue Saison gestartet.
Twitter
Music History‏ @today_classical #Today in 1835 FP of #Donizetti's Lucia di Lammermoor, at the Teatro San Carlos in Naples. #MusicHistory #classicalmusic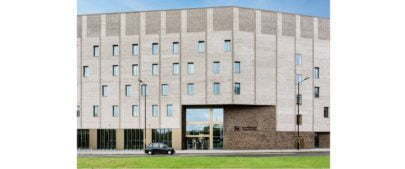 Image: Birmingham Conservatoire