Classical News
In today's news, Anna Netrebko surprisingly withdraws from singing at Royal Opera's Norma, Finnish conductor Esa-Pekka Salonen to work with Metropolitan Opera, Google offers a virtual tour through the Sydney Opera House and Scottish Opera announces four productions and Philip Glass premiere as new season is unveiled.
The Guardian
Soprano Anna Netrebko withdraws from Royal Opera's Norma
One of the world's leading sopranos has pulled out of the Royal Opera's autumn production of Norma because her "voice has evolved in a different direction". Anna Netrebko released a statement on Tuesday giving her reasons for what the company admitted was a frustrating late withdrawal.
New York Times
Esa-Pekka Salonen brings his cool to New York's music scene
He has held musical soirees at National Sawdust in Williamsburg, Brooklyn. He led the New York Philharmonic in Messiaen's boffo "Turangalîla-Symphonie" in March at David Geffen Hall, where, a week later, Alan Gilbert conducted the New York premiere of his Dada piece, "Karawane." Now he is next door, conducting Strauss's "Elektra" at the Metropolitan Opera.
Herald Scotland
Scottish Opera announces four productions and Philip Glass premiere as new season unveiled
Four new productions, a collaboration with a leading theatre company and the first Scottish performance of a Puccini opera are part of Scottish Opera's new season.
Mashable UK
Go backstage at the Sydney Opera House with Google's virtual museum
On Wednesday, the building and the Google Cultural Institute, an initiative that hosts virtual museums from around the world, announced a new partnership that will see more than 1,000 of the House's artefacts posted online.
Music Week
BBC Music Day to return in June
BBC Music has announced the full line-up of events for BBC Music Day 2016, which returns this year on Friday, June 3.
Classical Music Magazine
Warner Classics extends label distribution service
Warner Classics is to extend its global distribution and marketing infrastructure to third-party labels. EuroArts Music will be the first company to join forces with Warner Classics Label Services from 1 May.
Ralph Kirshbaum receives honorary degree
Cellist Ralph Kirshbaum is to be presented with an honorary doctorate in music from the Royal Conservatoire of Scotland on 5 July. Kirshbaum's career encompasses solo performance, chamber music, recording and pedagogy.
The Strad
Fresh from signing to Warner Classics, violinist Kyung Wha Chung to open Verbier Festival
Following the news earlier this month that Kyung Wha Chung has signed an exclusive recording contract with Warner Classics, it has been announced that the violinist is to open the Verbier Festival on 22 July.
Der Tagesspiegel
Die Türkei versucht die EU-Kulturpolitik zu kontrollieren – Auslöser ist ein Konzertprojekt der Dresdner Sinfoniker über den Genozid an den Armeniern.
neue musikzeitung
Erinnern, übermalen und neu gestalten
Der dänische Komponist Hans Abrahamsen im Porträt.
Das Orchester
Nachlass von Claudio Abbado kommt nach Berlin
Die Schenkung an die Staatsbibliothek zu Berlin/Stiftung Preußischer Kulturbesitz umfasst eine umfangreiche Sammlung von Partituren, handschriftlichen Aufzeichnungen, Audio-/Video-Veröffentlichungen, musikwissenschaftlicher Literatur und Briefen.
El mundo
Con la vista en Brahms y Gernika
La BOS mirará al compositor alemán en una temporada que tendrá invitados como Eliahu Inbal.
Twitter
Top Classical News @topcmnews Three Krenek operas to be staged in Frankfurt http://bit.ly/1MYBVpf  #ClassicalMusic
Making Music England @MakingMusicENG Help put 'A Choir in Every Care Home' https://www.makingmusic.org.uk/news/help-put-choir-every-care-home … @LiveMusicNowUK
Sydney Opera House @SydOperaHouse Today we launch our @Google Cultural Institute collection — 50 exhibits, 1000+ artefacts http://bit.ly/26sVtrX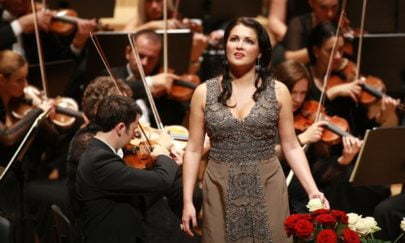 Photograph: Royal Opera