In today's news: Guadagnini violin sold for record price. New managing director for London Southbank Sinfonia. Music creators urged to fight for their rights. Fund to help Coventry's arts organisations to prepare to become City of Culture in 2021. New music museum to be created in Madrid.
Pizzicato
Guadagnini Violin sold at record-price of € 1,8 million
Tarisio, a web-based auction house specializing in stringed instruments and bows has announced the sale of the Sinzheimer Guadagnini violin for £1,587,000 (€1,8 million) – the highest price ever paid at an auction for an instrument by this maker.
Music Business Worldwide
Sony Music acquires stake in classical music promoter Raymond Gubbay
Sony Music has acquired shares in UK-based classical music events promoter Raymond Gubbay as part of a process which sees the major label group sell off 49% of another company.
Southbank Sinfonia
William Norris appointed Managing Director
Southbank Sinfonia is pleased to announce the appointment of William Norris as Managing Director, taking over from James Murphy who departs to be Chief Executive of the Royal Philharmonic Society.
M magazine
Music creators urged to fight for their rights
In early July, all MEPs will come together to vote on whether to approve the most significant reform of copyright in nearly 20 years. Ahead of this vote, PRS for Music is asking its members to use a new tool to email them asking for their support in addressing the 'transfer of value' from rightsholders to digital service providers.
The Guardian
What's it like to be directed by the great conductor? One amateur violinist found when she joined the Berlin Philharmonic's BE PHIL orchestra for five inspiring days.
The Stage
Fund set up to help Coventry's arts organisations prepare for 2021 City of Culture
A dedicated funding stream has been set up for artists and cultural organisations preparing for Coventry's year as UK City of Culture in 2021.
klassik.com
Bariton Mikolaj Trabka gewinnt Stella Maris-Gesangswettbewerb
Der Bariton Mikolaj Trabka von der Oper Frankfurt hat den internationalen Gesangswettbewerb "Stella Maris" gewonnen. In den Genres Oper, Lied und Oratorium nahmen in diesem Jahr sechs Künstler internationaler Opernhäuser auf.
NMZ
Wie ein Erdbeben klingt? – Japaner Hosokawa an der Oper Stuttgart
Sieben Jahre nach dem Erdbeben in Japan und der so ausgelösten Atomkatastrophe in Fukushima setzt sich die Staatsoper Stuttgart künstlerisch mit der Tragödie auseinander.
Forscher kreieren mit Computersimulationen eine Jazz-Glocke
Mit Computersimulationen haben Wissenschaftler der Technischen Universität München (TUM) den Klang von Glocken erforscht – und dabei eine Jazz-Glocke kreiert.
Platea
El PSOE propone crear un museo de la música en Madrid
El grupo municipal socialista llevará hoy al pleno del Ayuntamiento de Madrid la propuesta de la creación de un museo de la música en la capital.
Twitter
#Today in 1912 FP of #Mahler's Ninth Symphony is performed posthumously. Bruno Walter conducting in Vienna. #MusicHistory #classicalmusic pic.twitter.com/ehYTJx8lhJ

— Music History (@today_classical) June 26, 2018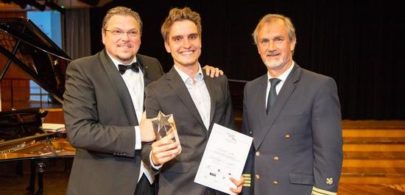 Michael Schade, Mikolaj Trabka (Oper Frankfurt), Kapitän Mark Behrend, © Hapag Llyod