In today's news: Bill Murray is bringing his classical music shows to the UK, Decca's Rebecca Allen on the Classic BRITs comeback, Ruth Mackenzie named chair of Arts Council England's London area council, Philadelphia Orchestra announced Monday evening that it had chosen Matías Tarnopolsky as a new leader, Catholic Church quits GEMA contract (society for musical copyright enforcement) and France 4 now offers an animated series called Max & Maestro with main character Daniel Barenboim.
Dazed
Bill Murray is bringing his classical music shows to the UK
New Worlds mixes music and literature to explore themes of American history and identity. During the group's performances, Murray reads passages from classic American literature and poetry while accompanied by a diverse array of instrumental pieces, with compositions from Bach to Bernstein to Van Morrison performed by a chamber trio (Vogler on cello, violinist Mira Wang, and pianist Vanessa Perez).
BBC News
The autistic musician who 'makes music with his mind'
As someone with high-functioning autism who sees the world through sound, creating melodies from the bustle of the high street or trains on the tracks feels more natural than any social interaction.
Music Week
Decca's Rebecca Allen on the Classic BRITs comeback
Allen has told Music Week it's the "right time" for the return of the Classic BRIT Awards amid a resurgence for non-pop repertoire. The televised event, organised by the BPI, is being revived to mark the growing popularity of classical releases, musical theatre and music from TV, film and video game soundtracks.
The Stage
Ruth Mackenzie named chair of Arts Council England's London area council
Mackenzie replaces current chair Veronica Wadley, who will be leaving the role on June 30 after eight years.
The New York Times
The Philadelphia Orchestra Looks West for Its New Leader
The Philadelphia Orchestra, which has been trying to ride a wave of recent musical success after facing the rough seas of bankruptcy earlier this decade, announced Monday evening that it had chosen a new leader: Matías Tarnopolsky, the executive and artistic director of Cal Performances, the performing arts organization at the University of California, Berkeley.
Limelight
New World Symphony: Education's new Age of Enlightenment
Concerned for classical music's future? Take a look at Michael Tilson Thomas's Miami-based academy. […] It's home to around 90 students, many of who you can peer in on as they practise inside the glass-walled rehearsal rooms, but these are no ordinary rooms, and this is no ordinary college of learning. […] Instead, NWS fellows (as they are known) are taught by a combination of visiting guest artists and hi-tech, interactive, long-distance coaching sessions. Their teachers include senior musical pedagogues from all over America (or even further afield), plus the careful guiding hand and sensitive, forward-thinking ministrations of founder and Artistic Administrator, conductor, composer and impassioned educator, Michael Tilson Thomas.
Der Tagesspiegel
Französische Pionierin Lili Boulanger – Schmerzmusik
Sie hätte Musikgeschichte schreiben können. Lili Boulanger komponiert als junge Frau Werke von betörender Schönheit. Im Jahr 1918 stirbt sie. Mit nur 24 Jahren. Jetzt kommt ihre Musik nach Berlin.
BR-Klassik
Katholische Kirche steigt aus GEMA-Vertrag aus – Singen wird teuer
Wer Musikstücke aufführt, muss GEMA-Gebühren bezahlen. Das gilt auch bei kirchlichen Konzerten. Weil die katholische Kirche jetzt aus dem Pauschalvertrag mit der GEMA ausgestiegen ist, kommen hohe Kosten auf die Gemeinden zu.
france musique
Max & Maestro, quand Daniel Barenboim devient un personnage de dessin animé
France 4 propose à partir de ce lundi 26 mars Max & Maestro, une série animée d'éveil à la musique classique avec comme personnage principal, Daniel Barenboim. L'illustre chef d'orchestre a également été consultant et a interprété ou dirigé les morceaux présents dans les 52 épisodes.
Twitter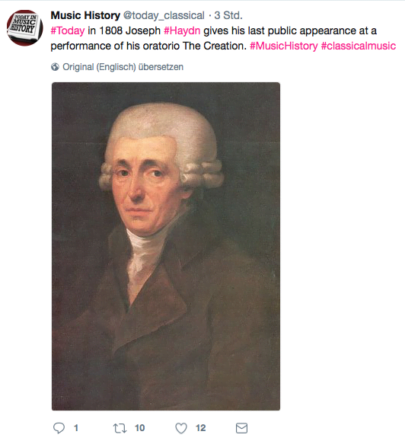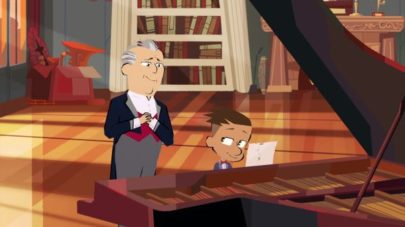 Max & Maestro © Monello