Classical News
In our news today, Budapest Festival Orchestra cancels concerts due to funding cuts, the YCAT Artists 2016 have been announced & Michael Volpe comments on engaging audiences from a very young age. Also, the Telegraph explains how to explore classical music.
pizzicato
Budapest Festival Orchestra cancels concerts due to funding cuts
The Budapest Festival Orchestra is shortening its 2016/17 season in order to survive after heavy cuts made by the General Assembly of Budapest to their funding.
Classical Music Magazine
Oboist Olivier Stankiewicz, Castalian Quartet, soprano Nika Gorič and violist Timothy Ridout have been selected as YCAT artists for 2016.
Evening Standard
Michael Volpe, interview: We need to invest in opera audiences — from the age of five
If Michael Volpe had his way, listening to Tchaikovsky and Verdi for an hour a week would be compulsory for all schoolchildren from the ages of five to eight, while sciences, SATs and religious education would be scrapped.
The Telegraph
How you can get into classical music: a beginner's guide
So, you want to explore classical music? The first question must be: where to start? The most obvious fact about classical music is that it's absolutely huge. It stretches back at least 500 years, and over the past century has roamed away from its ancestral homeland in Europe to embrace the whole world.
BBC News
Ticket sites 'must do more to fight touts'
Companies like Ticketmaster should take more action to prevent touts "harvesting" concert tickets, a government review has recommended. It says the current measures are inadequate, and suggests buyers should be forced to give proof of ID.
The Strad
English violin case sells for record-breaking price at US auction house
A violin case from the 19th century has sold for a record $17,220 at an auction in Boston, MA, US. Made in c.1887 by W.E. Hill & Sons in London, the case was listed with an estimate of $6,000–$8,000.
klassik.com
Dirigent Seiji Ozawa muss längere Pause einlegen
Tanglewood Festival findet ohne Beteiligung des Dirigenten statt
Musik heute
Daniele Gatti wird Berater des Mahler Chamber Orchestra
Der Dirigent Daniele Gatti (55) ist zum Artistic Advisor des Mahler Chamber Orchestra (MCO) berufen worden.
Klassik Akzente
Schostakowitsch-Fieber – Neues Album von Andris Nelsons erschienen
Es wird bereits heiß ersehnt. Jetzt erscheint Andris Nelsons' neues Album.
Twitter
Top Classical News @topcmnews Jazz Piano Tutorials by Tim Richards http://bit.ly/1Rw3SzM  #ClassicalMusic
The Royal Opera @TheRoyalOpera #ROHoedipe returns tonight We'd love to hear your thoughts – add your review: http://www.roh.org.uk/news/your-reaction-george-enescus-oedipe … ^C
Opera North @Opera_North 'Did you just move from chord V to chord I? Because I think you're PERFECT!' #MusicHumour #FridayFun #TGIF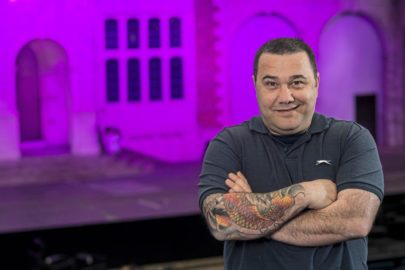 Photography: Daniel Hambury