Classical News
In today's news, Northern Ireland's Ulster Orchestra is celebrating their 50th anniversary, and is attempting to perform 50 pop-up gigs throughout Belfast city centre on 28th September 2016. BBC Philharmonic announces their interactive concert series, which will also be streamed live on the orchestra's website. In addition, Toccata Classics is launching its biggest project to date, 'Music for my love'. Also, Yamaha is currently seeking piano scholars for 2017.
The Irish News
The Ulster Orchestra's 50 gigs in one day
The Ulster Orchestra will mark its golden anniversary by attempting 50 pop-up performances in and around Belfast city centre on Wednesday September 28.
Classical Music Magazine
BBC Phil announces interactive concerts series
The BBC Philharmonic is launching 'The Red Brick Sessions', a series of nine interactive concerts in partnership with the University of Salford. The performances will appear on the orchestra's website as an enhanced live stream. This will enable the audience to delve closer into the orchestra, allowing them to zoom into specific sections of the ensemble, receive synced information about the music and view a live orchestral score.
Toccata Classics launches 'Music for my Love'
Toccata Classics is launching its biggest project to date. 'Music for my Love' will record more than 100 pieces of new music for string orchestra written to celebrate the life of Yodit Tekle (partner of Toccata Classics founder Martin Anderson), who died of stomach cancer in 2015 aged 37.
Yamaha seeks piano scholars for 2017
Yamaha Music is seeking scholars for the 2017 Yamaha Music Foundation Piano Scholarship programme. The scholarships are open to piano students from the UK and Ireland born after 1 January 1991 and currently studying on a full-time music course at a higher education institution.
Spitalfields Music Winter Festival 2016
Spitalfields Music's 40th anniversary celebrations will continue with the Winter Festival, which will take place 4-11 December.
Entertainment Music News
Students tune in for Classical Music Awards
Launched in 2001, it is Ireland's largest classical music competition for secondary schools.
El Mundo
Ennio Morricone: "Soy tan artesano como artista"
No fue hasta febrero que, con 87 años, ganó el primer Oscar a mejor banda sonora. El compositor de filmes inolvidables celebra 60 años de carrera.
nmz
Daniel Hope neuer Musik-Direktor des Zürcher Kammerorchesters
Der Geiger Daniel Hope ist neuer Musik-Direktor des Zürcher Kammerorchesters. Seine Amtszeit beginne am 27. September mit der Saisoneröffnung in der Tonhalle Zürich.
Musik heute
Staatstheater Wiesbaden: Intendant Laufenberg verlängert bis 2024
Intendant Uwe Eric Laufenberg bleibt bis 2024 am Hessischen Staatstheater Wiesbaden. Der 55-Jährige habe das Angebot einer Verlängerung seines bis 2019 laufenden Vertrags angenommen.
klassik.com
Komponistin Julia Wolfe erhält MacArthur Fellowship
Die US-amerikanische Komponistin Julia Wolfe wurde zum MacArthur Fellow 2016 ernannt. Das damit verbundene Stipendium ist mit 625.000 US-Dollar (knapp 557.000 Euro) dotiert.
Twitter
BBC Music Magazine @MusicMagazine Can we use technology to enhance classical music performances? http://www.classical-music.com/blog/technology-concert-hall …
The Royal Opera @TheRoyalOpera A wonderful way to spend an evening: #ROHnorma in cinemas Here's the reaction so far, add yours in the comments http://www.roh.org.uk/news/your-reaction-what-did-you-think-of-bellinis-norma-in-cinemas …
Classical Music @ClassicalMusic_ Spitalfields Music's 40th anniversary celebrations will continue with the Winter Festival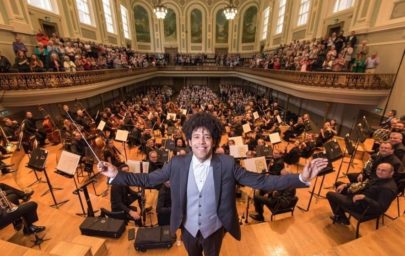 Photograpgh: The Irish News/ Ulster Orchestra