Classical News
In today's news, musicians in London protest against Brexit with Beethoven's 'Ode to Joy', Peter Maxwell Davies's final work at Barbican's concert hall, and the National Post questions whether new audiences might be attracted to classical music if it broke out of its usual venues. Also, Tim Frederiksen shares his secret to success & Katherine Jenkins cancels a concert due to health reasons.
Classic FM
Musicians protest Brexit tensions with Beethoven's 'Ode to Joy' in London
A demonstration of musical and cultural unity by a scratch orchestra of musicians from both the UK and EU.
The Telegraph
The Hogboon, Peter Maxwell Davies's final work, is satisfyingly weird
In 30 years the Barbican's concert hall can never have been quite so crowded. By the time the bows were taken after the premiere of Peter Maxwell Davies's final work, there was barely a spare square foot of unoccupied space onstage.
National Post
Can classical music reach a new audience through unlikely venues?
Where can we expect to hear performances of classical music these days? In a concert hall, most likely – a gleaming culture palace with cushy seats and finely calibrated acoustics. Or maybe in a church, especially if the music is sacred in nature.
The Strad
'Classical musicians must be innovative and personal, without violating tradition,' says Tim Frederiksen
The Royal Danish Academy of Music chamber tutor has a knack of putting together string ensembles that go on to achieve great things, finds Andrew Mellor.
International Arts Manager
Pierre Audi named sixth director of Festival d'Aix-en-Provence
Pierre Audi is to become only the sixth general director of Festival d'Aix-en-Provence when he takes over from Bernard Foccroulle on 1 September, 2018. The opera and classical music festival, first run in 1948, is a highlight of the French classical music calendar.
Classic FM celebrates National Children's Orchestra
The National Children's Orchestra (NCO) will be featured every day on Classic FM this week, part of 'Young Brilliance Week' that coincides with the launch of a new NCO website as well as the orchestra's open auditions for 2017. Recordings, interviews with alumni conducted by current members, and a concert broadcast on Wednesday evening are all part of the programme.
BBC News
Katherine Jenkins pulls out of Llangollen eisteddfod with virus
A virus has forced Katherine Jenkins to pull out of a concert in north Wales next month.
The Guardian
Orchestral maneuvers in the park: classical festivals in stunning scenery
The hills of America's most stunning national parks will be alive this summer with the sound of music to celebrate the centenary of the National Park Service.
Classical Music Magazine
Mahogany Opera Group appoints Ivan van Kalmthout as Chief Executive
Ivan van Kalmthout, most recently interim Artistic Director at the Gran Teatre del Liceu, Barcelona, has been appointed chief executive of Mahogany Opera Group, effective from the end of July.
Adaptistration
Looking for even more compensation resources?
The 2016 Orchestra Compensation Reports were a big hit but what if you're looking for compensation data outside of executives, music directors, and concertmasters?
klassik.com
US-Gericht erklärt Happy Birthday für gemeinfrei
Ein US-Gericht hat das weltweit bekannte Geburtstagslied "Happy Birthday" nach einem mehrjährigen Rechtsstreit nun offiziell für gemeinfrei erklärt. Ein Richter stimmte dem vor mehreren Monaten vor Gericht erzielten Vergleich zwischen Klägern und dem Musikverlag Warner/Chappell zu.
pizzicato
Dudamel verkauft seine Villa in LA
Der venezolanische Dirigent Gustavo Dudamel hat seine Villa in Los Angeles in  den Verkauf gegeben, die er im Januar 2015 gekauft hatte.
Codex flores
Bilanz der Festspiele Zürich 2016
Die Festspiele Zürich 2016 sind Geschichte. Die insgesamt 127 Veranstaltungen von 30 beteiligten Institutionen an 34 verschiedenen Veranstaltungsorten generierten 83'000 Eintritte. Die Auslastung stieg gegenüber dem Vorjahr von 75 auf 85 Prozent.
Twitter
CBC News @CBCNews New all-female orchestra in Vancouver celebrates women in classical music http://www.cbc.ca/1.3653610 
Classical Music @ClassicalMusic_ .@AnnaHMeredith to lead residency for young female musicians @msimanchester
Top Classical News @topcmnews Mahler closes Symphony season http://bit.ly/2962x8E  #ClassicalMusic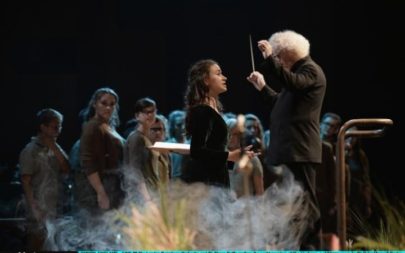 Photograph: Getty